These Free Online Classes Will Help You Expertly Train Your Pup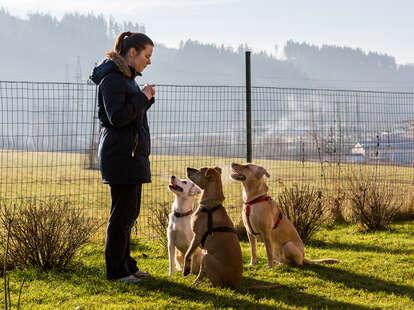 Just in early February, Coors Light was offering to cover dog adoption costs as a means of helping shelters, as well as those who were hopelessly single during "cuffing season." Since then, the world of adoption has changed dramatically. Cuffing season was abruptly interrupted by "pandemic season," which was a hindrance to our love lives, but a game-changer for animal shelters. Nationwide social distancing restrictions have led to a dramatic increase in dog adoptions.
But while this is incredible news for the pups, it might not be great news for the clean carpets of first-time dog owners. So I reached out to Khara Schuetzner, a chairperson for the Association of Professional Dog Trainers (APDT) and owner of a training facility in Oklahoma called Doggie Spot, to find out more about how people can best prepare themselves for pet ownership.
"People do need to realize [that] with any new pet in the house, it takes time for personalities to develop," Schuetzner said. "Give up to three weeks for the animal to feel comfortable in the home and three months for the pet to feel part of the home."
I asked her if she thought social distancing regulations -- i.e. not being able to introduce the dog to new people and other animals -- would impact the socialization of the dog.
"Funny, you ask that question," she said. "Most people think socialization of dogs is with other dogs and humans. That is [just] part of the picture. Socialization of dogs is the whole environment, noises, smells, sights, etcetera." Schuetzner said now is a great time to introduce your dog to the "other part of socialization."
"There are a lot of animals who had the dog play and people parties, but never saw a human walking around with mask and gloves on," she added.
Schuetzner also referred me to the APDT trainer search, where new pet owners can find trainers in their area. She said many trainers are doing Facebook livestreams regarding these situation-specific topics.
But if you can't find a trainer who livestreams, there are tons of online training classes available for free. We've put together a handy list of the most useful courses and channels for learning how to train your dog. These videos and articles cover all stages of dog-owning, from choosing a puppy that's right for you, to mastering the choreography of a perfect frisbee game with your new best friend.
First of all, Wagfield academy has a nice online interface that's extremely easy to navigate -- a characteristic that perfectly aligns with the organization's goal of offering "affordable, accessible, best-in-class socialization and training solutions" for dog owners. The academy currently offers four free courses, which you can access right from the homepage via a bold orange "start free courses" button at the top, or through this link. The course titles are fairly self-explanatory -- "The Basics," "Puppy 101," "Rescue Refresher," and "No More Pulling on Leash." Each class comes with a video, written instructions, and a quiz.
Zach George's Dog Training Revolution
While pro dog trainer Zach George's "Complete Guide to Raising the Perfect Pet" isn't being offered for free, his high-energy YouTube channel is a good place to find techniques for teaching your pup to play the perfect game of fetch, or do crowd-pleasing tricks for the one other human you're isolated with (roll over and play dead, for example). He also focuses on the more practical and fundamental skills in dog rearing, like teaching your dog to stop pulling on the leash, or generally training withoutbrute force and intimidation.
The popular online training platform Udemy is better known for other kinds of quarantine-friendly classes -- like photography and drawing -- but it does have a few interesting dog training courses available in the free section. The one that stands out the most for dog training is called "Puppy Raiser Course for Retrieving Independence-nonprofit," which is a course made for volunteers of the organization called Retrieving Independence, but is definitely useful for owners looking to properly discipline and socialize their pup. Udemy also offers "bite-sized learning" dog training modules for free, which includes a 15-minute long behavior and training problems video sampled from a class that costs around $60. You can find those modules at the bottom of this screen.
These online courses are offered by Dr. Ian Dunbar, a veterinarian and founder of the Association for Professional Dog Trainers. The man's legit enough to have a TED Talk and, as an animal behavioralist, he preaches the value of seeing life through your dog's point of view. Therein lies the main value of his free courses -- he doesn't get as specific with training as we've seen with other instructors offering free courses, but he'll provide a lot of psychological insight that will prove useful during all stages of raising a puppy or welcoming an older dog into the home. The free subscription on his online academy website offers eight free courses and comes with two books, Before You Get Your Puppy and After You Get Your Puppy.
PS: His behavioral problems crash course is perfect for when you've adopted a dog from a troubled home, or else one that was just poorly trained. It offers "easy and essential dog training techniques" for the most common behavioral issues dog owners struggle with.
Even though the American Kennel Club (AKC) is best known for its visually stunning dog shows, the training services it offers online don't include many videos (most of them are for show preparation). That said, it would be silly to toss aside free advice from one of the world's leading experts on dogs... especially when it's in the form of in-depth articles on myriad topics that aren't often addressed, like why your dog is hiding things, or how to reduce their anxiety in the car. The articles that stick out to me right now are up towards the top of this page, mostly because they're extremely topical. Be sure to check out "How to Socialize Your Puppy During Times of Social Distancing" and "What It's Really Like to Get a Puppy During COVID-19" if you're still just considering adoption.
Sign up here for our daily Thrillist email and subscribe here for our YouTube channel to get your fix of the best in food/drink/fun.