This Airline Is Offering Free One-Way Flights to the Australian Outback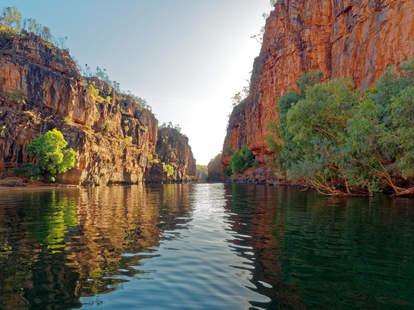 If you're planning on enduring the long flight to Australia this year, the Northern Territory doesn't want you to forget about it. Many people still spend most of their time along the east coast visiting hubs like the Gold Coast and Sydney.
Despite seeing record tourism numbers in 2017, Tourism Northern Territory has put together an alluring deal with Qantas Airways to make sure you're giving the outback a chance. Take an international flight to Brisbane, Melbourne, or Sydney with Qantas and you can get a free one-way flight from one of those cities to see the striking natural beauty around Darwin, Alice Springs, or Uluru in the Northern Territory. (Those cities rank highly on the Thrillist list of Best Cities in Australia.) 
You can take advantage of the deal on any flight taken before December 31, 2018, as long as it's booked by July 31. In order to qualify for the deal, you'll have to spend at least two nights in the Northern Territory.
The "Fly Free to the Outback" promotion is pretty easy to take advantage of, especially because they have set up a site with all the details you'll need to book your free flight. However, they can't do anything about the bad Australian accents you'll hear from your coworkers when you tell them you're vacationing in Australia. Sorry. 
h/t Afar
Sign up here for our daily Thrillist email and subscribe here for our YouTube channel to get your fix of the best in food/drink/fun.

Dustin Nelson is a News Writer with Thrillist. He holds a Guinness World Record but has never met the fingernail lady. Follow him @dlukenelson.