Everywhere First Responders Can Get Free & Cheap Food
A big, edible thank you.
Right now, in the midst of a pandemic, there are already plenty of reasons to thank first responders for the work they do. That's driven home even more on September 11.
Every year restaurants around the country take the day as an opportunity to offer something extra to first responders as a way of saying thanks, having been reminded of the important, life-saving work they do every day. As with all things, this year is looking a little different. Many restaurants are closed or offering limited dining service. Still, first responders will find free and discounted meals at chains like Panda Express, Bonefish Grill, and convenience stores like Cumberland Farms.
Here are all the places first responders can get free and low-cost food right now.
Free Food for First Responders
Ike's Love and Sandwiches
The deal:
First responders can grab a free Red Bull when they show a badge or ID.
When:
March 5
Cumberland Farms
The deal: The convenience chain is offering free coffee to people helping battle the COVID-19 outbreak. People who can grab a free coffee any day of the week include "healthcare workers, first responders, and military personnel including police officers, firefighters, active military, paramedics, doctors, nurses, hospital and medical staff, and medical researchers."
When: Ongoing
Bonefish Grill
The deal: Starting September 11, Bonefish Grill will rename its Military Discount to the "Heroes" Discount. Members of the military can still get it, but it's also an ongoing offer for first responders now as well.
When: Starting September 11
Delta Sonic
The deal: Each Delta Sonic location with a brick oven will offer a free meal to "all doctors, nurses, EMTs, firefighters, and police officers with a valid ID."
When: Ongoing
Carrabba's Italian Grill
The deal: All service members and first responders get 10% off their visit on Veterans Day (and every day of the year).
When: Ongoing
Photo courtesy of Panda Express
Food Deals for First Responders
Naf Naf Middle Eastern Grill
The deal:
Naf Naf is offering first responders and active or retired military personnel a 15% discount on their order. You have to flash a valid ID and order in-store. (The deal isn't good on catering orders.)
When:
Ongoing
Meso Maya
The deal: The small Texas-based chain is offering healthcare workers and first responders 20% off their order.
When: Ongoing
Snuffer's Restaurant & Bar
The deal: Trim 20% off your meal if you're a healthcare worker or first responder.
When: Ongoing
Taqueria La Ventana
The deal: Though it only has a few locations, it's still slinging a deal for healthcare workers and first responders. You'll get 20% off your order.
When: Ongoing
Village Burger Bar
The deal: Healthcare workers and first responders can stop by to get 20% off any order from the burger shop.
When: Ongoing
DiBella's Subs
The deal: First responders, nurses, doctors, military personnel, and anyone else who works in the healthcare field will get 50% off their order as part of the chain's Essential Workers Discount Program.
When: Ongoing
DiBella's Subs
The deal: The Pay It Forward campaign allows you to donate a tray of subs to essential workers at half price. DiBella's will cover the other half of the tray to help you support the essential workers making a difference in your life, whether they're healthcare workers, teachers, or first responders.
When: Ongoing
Fire Dept. Coffee
The deal: There's a 15% lifetime discount for active military, veterans, first responders, and emergency dispatchers.
When: Ongoing
Kind
The deal: Order Kind bars through the company's site to get 15% off everything on the site. That offer is available to military veterans, active-duty personnel, first responders, nurses, and doctors.
When: Ongoing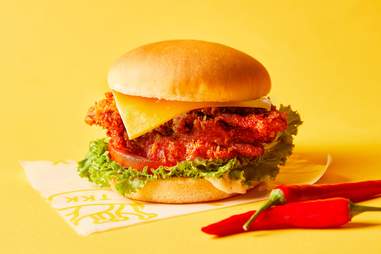 Photo courtesy of TKK Fried Chicken
Other Deals Available Right Now
Wendy's
The deal:
Use the Wendy's app to grab a
free Jr. Bacon Cheeseburger
with a purchase.
When:
Through February 21
Tim Hortons
The deal: Grab a free donut with the purchase of any beverage through the Tim Hortons app or website.
When: February 13-14
Dunkin
The deal: The donut chain is offering DD Perks members a free medium hot coffee with any purchase every Monday in February.
When: February 8, 15, 22
Ike's Love & Sandwiches
The deal: Order for in-store takeout and you can get BOGO sandwiches.
When: February 14
Applebee's
The deal: You can add a dozen Double Crunch Shrimp to any steak entrée for just a dollar. You'll need to order through the Applebee's site or mobile app.
When: Ongoing
Panda Express
The deal: The Family Meal Deal will land you two large sides and three large entrées for $29. The options include the new Firecracker Chicken Breast.
When: Through March 23
Alex's Awesome Sourdough
The deal: Take advantage of a buy-one-get-one-free deal at every Sprouts location. That deal will land you pizza dough for the Super Bowl and for National Pizza Day.
When: February 3-10
Girl Scout Cookies
The deal: You can get Girl Scout Cookies through Grubhub this year. If you hit a $15 minimum, you can get free delivery.
When: February 1-14
Want More Food Deals?
Here's our huuuuuuuge running list of all the
free food
you can get right now, as well as the
best pizza deals
,
reward programs
,
birthday freebies
,
gift card offers
,
deals on food for kids
,
food delivery offers
, and
alcohol delivery deals
you'll find. If you want a little more than, say a free taco, we also have you covered with a long list of
meals you can get at fast food chains under $5
. You're welcome.
Additionally, we've put together a list of places offering
free food to healthcare workers and first responders
during the COVID-19 outbreak.
Sign up here for our daily Thrillist email and subscribe here for our YouTube channel to get your fix of the best in food/drink/fun.