This Flexible-Armed Sofa Will Literally Give You a Giant Hug
Courtesy of Lee Eun Kyoung
Courtesy of Lee Eun Kyoung
If you listened to you mother when you were a kid, you know damn well not to sit on arms of the couch. Ever. But now, you can ditch mom's nagging, thanks to a brilliant new chair/sofa with fluffy, moveable arms you can wrap around yourself in one big, lazy embrace.
It's called the Free Hug Sofa, and it was created by South Korean designer Lee Eun Kyoung, according to a report by Mashable. Basically, forget about the Blandito taco couch and sink your ass into this sofa's giant, undiscriminating arms whenever you need a soft, inanimate hug. However, getting tangled in this thing might spell the end of ever leaving your apartment again. Just look at the glorious photo above.
The free hug sofas also hug each other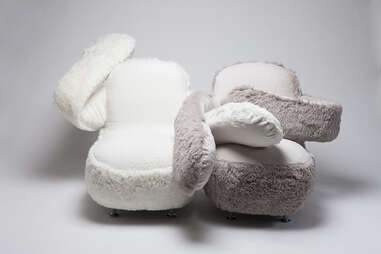 Just last year, Kyoung was awarded a Bronze A' Design Award for the couch's design, per Mashable's report. Here's how she described the friendly furniture:
"The long arm stretched out resembles humans and looks like saying 'Come here I will hold you in my arms.' Because the sofa gives the feeling of being alive, it will hold you warm and soft like your mother, friend, and a lover without feeling lonely. It will present the dream of innocent childhood by giving the feeling of the soft heart of mother or the arms of the doll wrapping around you in your childhood. The cushion was put on the sofa before but this product combined the sofa and the cushion which moves freely. Accordingly, the usability is unlimited for user preference. "
Let's just say your "user preference" will likely be 'never getting up again.'

Sign up here for our daily Thrillist email, and get your fix of the best in food/drink/fun.
Tony Merevick is Cities News Editor at Thrillist and would never leave his apartment if he had one of these. Send news tips to news@thrillist.com and follow him on Twitter @tonymerevick.