Krispy Kreme Is Giving Out Totally Free Donuts Today for Halloween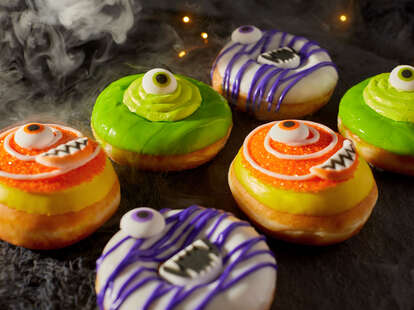 Your costume and the joy it inspires in fellow partygoers is reward enough in itself. Right? That's why you put so much work into your couple Lil Nas X and Billy Ray Cyrus costume. That's the holy spirit of Halloween at work.
However, if that's not enough for you, trot out that costume early in the morning and head to your local Krispy Kreme. They're going to give you a free donut for wearing a costume as you stroll down the street. You don't even have to buy anything. Krispy Kreme is just giving out donuts because they simply love the holiday.
Though, it's not clear if there are hard rules on what constitutes a costume. Cat ears and nothing else? You might be pushing it.
You'll only get to take advantage of this deal on October 31. However, you don't just have to grab an Original Glazed donut. You can also get your fingers around one of the chain's limited-edition monster donuts, like the cake batter-filled Hypno-Henry, an orange cyclops with a heart of gold, er, orange.
Get ready for the sugar rush. It's coming, whether you're ready or not.
Sign up here for our daily Thrillist email and subscribe here for our YouTube channel to get your fix of the best in food/drink/fun.