Krispy Kreme Is Making Pumpkin Donuts & Giving Them Away for Free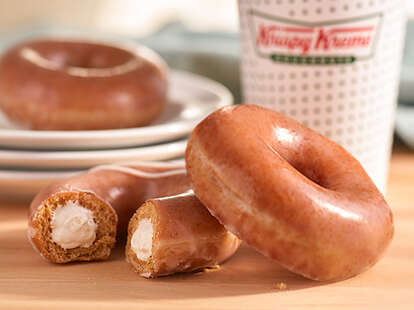 For all the pumpkin spice ridicule that exists in the world, imagine being a person whose favorite food is anything flavored with pumpkin and nutmeg. What a time to be alive!
That person should probably find their way to Krispy Kreme over the next week. The donut purveyor is bringing back its Pumpkin Spice Original Glazed Doughnut and introducing a new twist on the fall favorite, the Pumpkin Spice Original Filled Cheesecake Doughnut. (Filled donuts is a thing they've been doing a lot this year.) The latter is basically the first donut, but with a river of cheesecake Kreme running through the middle. They'll both be available from September 2-8, then they'll disappear from memory like a Gerard Butler disaster film.
Look, it's not even officially fall yet and pumpkin spice fatigue has arrived. Krispy Kreme is aware of the sentiment and will be introducing "Pumpkin Spice Purchase Protection" with the donuts. Nope. That's not a joke. If you're disappointed in any pumpkin spice product -- anything at all -- you can trade it in for a free pumpkin donut from Krispy Kreme through September 8.
Somehow, that's a real thing. Bought that pumpkin spice Spam as a joke? Boom, make it a donut because there's no way that's good. Ordered pumpkin spice cologne for your cat and it sucks? Turn it into a donut. The only drawback is that you are going to have to admit to the cashier that you bought the horrible pumpkin spice product that disappointed you.
Sign up here for our daily Thrillist email and subscribe here for our YouTube channel to get your fix of the best in food/drink/fun.