More Than 1,300 Museums Are Offering Free Admission This Weekend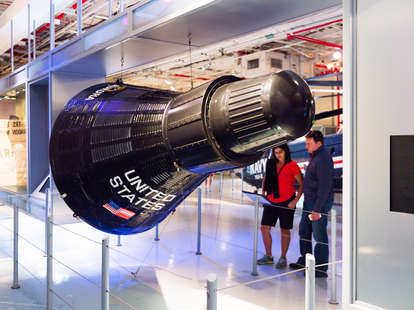 Shutterstock.com
Shutterstock.com
For one day, more than 1,300 museums across the United States will open their doors for free, celebrating the stories found inside. September 21 is the 15th annual Museum Day, organized by Smithsonian Magazine and anyone can participate.
Here's how it works: Head to the Museum Day website to find the participating museums and request a ticket. Each ticket is good for two people to get into the museum of your choice on September 21. You have to have one to partake in Museum Day. Unfortunately, the participating institutions don't just kick open the door and welcome all comers. Admission is free, but you have to get that precious, precious ticket in your hands.
No matter the US state in which you reside, museums participating in the event. In fact, there are at least four in every state and most have many more than that. The places you can go include The Museum of Russian Art in Minneapolis, Intrepid, Air, Sea & Space Museum in New York City, National Museum of Women in the Arts in Washington, DC, the Chinese Historical Society of America in San Francisco, the African American Museum in Philadelphia, and so many more.
Dig around the website and find somewhere in your city that you've never been. It's a wonderful opportunity to do some exploring.
Sign up here for our daily Thrillist email and subscribe here for our YouTube channel to get your fix of the best in food/drink/fun.