Nutella Is Giving Away Free Jars and Pancakes In Exchange for Your Old Syrup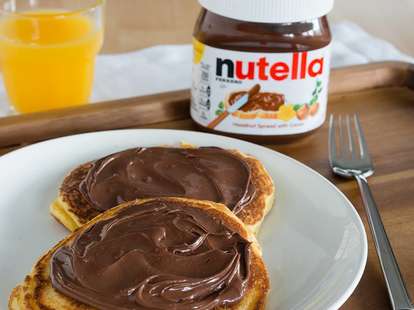 An advertising campaign that asserts you need to switch to a new product isn't at all unfamiliar. It's probably a little too familiar. However, a company actually offering to do a free swap to prove its point is much weirder.
Nonetheless, that's what Nutella is doing. On Leap Day, February 29, the hazelnut spread folks will open what it calls the NYC Syrup Swap Shop pop-up. (You are absolutely not required to say that mouthful in order to participate, we hope.) They'll be setting up (syrup swap) shop at Grand Central's Vanderbilt Hall in New York City. The shop will only accept one type of payment: syrup. That's because Nutella believes you should be coating your pancakes in its chocolatey spread rather than that tree-sugar you're using now.
You can bring in a bottle of syrup -- the announcement specifically says "opened or unopened," so, have fun with that -- to get pancakes topped with Nutella and a 13-ounce of Nutella for free. Or, rather, it's basically free. I mean, I'm not sure what the monetary value of one ounce of used syrup at the bottom of an old sticky bottle is, but it's not worth much.
The shop will be open from 9am-4pm on Leap Day to accept your old bottle of Vermont's finest. Unfortunately, if you don't live in New York, your syrup will remain syrup. But, good news! You've got syrup, and you should make pancakes for breakfast!
Sign up here for our daily Thrillist email and subscribe here for our YouTube channel to get your fix of the best in food/drink/fun.