Potbelly Is Giving Away Free Sandwiches Right Now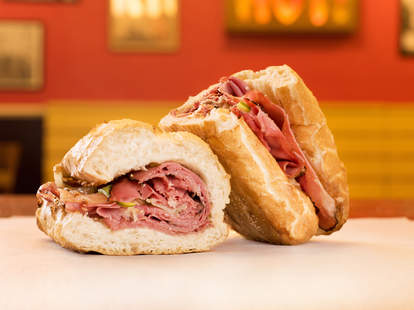 If your lunch plans typically involve settling for a cup of Greek yogurt at your desk instead of getting off you ass and grabbing a real lunch, well, it may be time to rethink your choices. And also, you can cancel your sad lunch plans, because Potbelly is handing out thousands of free sandwiches right now. 
Here's the deal:
Starting on Tuesday, the Chicago-based sandwich chain is serving up 75,000 free sandwiches at its locations across the country through October 30. All you have to do is download the company's mobile app for iPhone or Android, create a new account, order your sandwich like you usually do at your local Potbelly, and pay with the app when you get to the register. The promotion will automatically load on your account and cover the cost of your Grilled Chicken & Cheddar sandwich, for example, according to a spokesperson. You'll just have to get there before all of the free sandwiches have been claimed. 
In case you're wondering, the deal is good for any Original sandwich (not BIGs) on the chain's menu, including the Pastrami, Italian, and its signature heap of assorted cold cuts, A Wreck. There are plenty of Potbelly menu hacks you can try, too, if you need some inspiration. But if you end up missing out on the sandwich giveaway, Potbelly is offering its standard free cookie perk to new app users as a consolation. It's not much and certainly not as good as a free sandwich, but it sure as hell beats that cup of yogurt...
Sign up here for our daily Thrillist email and subscribe here for our YouTube channel to get your fix of the best in food/drink/fun.
 
Tony Merevick is Senior News Editor at Thrillist and could go for a giant Italian-style sandwich. Send news tips to news@thrillist.com and follow him on Twitter @tonymerevick.