Shake Shack Is Giving Out Free Fries for the Rest of the Month
Tack on an order of those loveable crinkle-cut fries.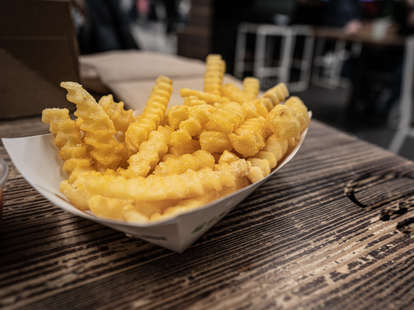 Aside from a restaurant giving you a free meal for some reason cooked up by its marketing department, the best food deals are the ones that get you what you're craving for a little less dough. It's great to get a free chicken sandwich, but if that's not what you wanted in the first place, it's not quite as satisfying as shaving a little bit off what you were going to order anyhow.
Shake Shack is coming in strong with one of those offers right now. Through June 30, order through its website or mobile app to get a free order of fries when you hit the $10 order minimum. However, you can only redeem this through the chain directly, not through any third-party delivery app. You'll also need to drop in the code "FRYDAY."
Bonus fact: You can take advantage of the deal up to five times per account.
If you're only able to access Shake Shack through a third-party delivery service, you can take $3 off an order of at least $15 when you order through Postmates over the weekend. You just have to pass along the code "SPLASHSHACK." The weird code name is a nod to a contest that's going on that you don't really need to know about. If you order with that code, you're entered to win a Shake Shack mini pool. It's basically a kiddie pool for burger-loving adults. However, that code is only available until 11:59pm PST on June 28. You could end June far worse off than chowing down on free fries in a kiddie pool.
Sign up here for our daily Thrillist email and subscribe here for our YouTube channel to get your fix of the best in food/drink/fun.