You Could Win Free Starbucks for Life Right Now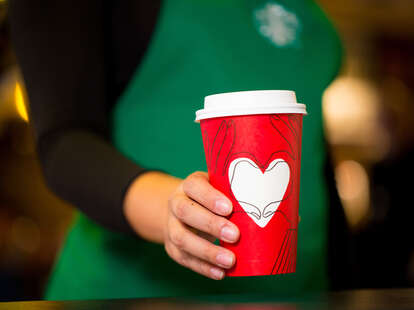 If you love Starbucks coffee but hate paying for it, you'll be excited to know that the caffeine-peddling megachain is once again celebrating the holiday season with its Starbucks for Life sweepstakes. For the fourth year in a row, you can participate in the contest for a chance to win tons of food and drink giveaways, including the grand prize -- free coffee "for life" -- which it will be awarding to five lucky customers between now and and January 8.
To get in on the action, all you need to do is log on to StarbucksForLife.com, enter your email and voila -- you're entered to win the grand prize. Additionally, if you're a Starbucks Rewards member, every purchase you make using your Starbucks Rewards card/mobile app will unlock a new chance to "play" the game and win all manner of prizes, from free Starbucks for a week, month, year, or "life," to millions of bonus points, which are redeemable for free food and drink. This year they've also added some new ways to redeem plays without even having to make a purchase (e.g., submit an anecdote about your favorite Starbucks barista, do a good deed, etc.). The only catch is that you can only "play" twice per day.
Of course, as with every giveaway or sweepstakes like this, there's some fine print to consider. In this case, it's important to note that "Starbucks for Life" doesn't technically get you gratis drinks and treats for life, but rather a daily credit for one free food or beverage item per day, every day, for 30 years. Still, three decades of not having to pay for coffee is one hell of a deal. In fact, even if you opt for just a simple tall coffee every day, that's over $20,000 worth of a free caffeine fix.
Sign up here for our daily Thrillist email and subscribe here for our YouTube channel to get your fix of the best in food/drink/fun.