Everyone Gets Free Taco Bell Today. Here's When & How to Get Yours.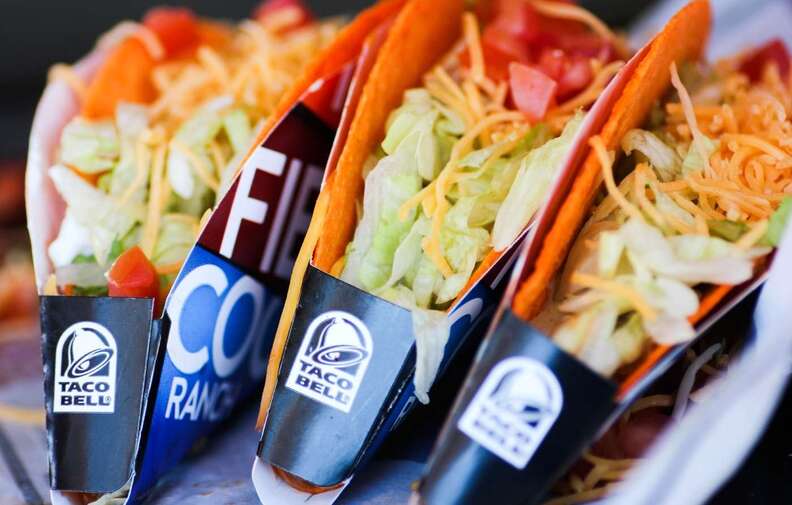 Lee Breslouer/Thrillist
Lee Breslouer/Thrillist
Everyone in America gets free tacos from Taco Bell today, October 30, thanks to baseball. As expected, the Chalupa-slinging fast food chain's annual "Steal a Base, Steal a Taco" free food giveaway was triggered by the first stolen base of the 2019 World Series between the Houston Astros and Washington Nationals. We repeat: Free tacos at Taco Bell. For everyone. Today.
Sure, it may not be the World Series you were hoping for, but a nationwide free taco party is something everyone can get excited about, no matter who you root for. Literally everyone is a winner. You just have to head to your local T-Bell and they'll present you with an edible trophy. Here's everything you need to know:
When and where to get the free tacos
Taco Bell is promising to give everyone in the United States one free Doritos Locos Taco; specifically, one regular (not Supreme) Nacho Cheese Doritos Locos Taco -- now that the chain killed off the Fiery and Cool Ranch versions in August. Not to crap on the OG Doritos Locos or anything. As our resident Taco Bell expert explains, this taco is "fast-food experimentation at its absolute peak -- a stunt food that paved the way for every 'look-this-bun-is-made-of-Cronuts-and-it's-also-stuffed-with-hot-dogs' feat of food food alchemy... Doritos and Taco Bell are just made for each other."
To get your taco, simply go to Taco Bell and request the freebie on October 30 any time between the hours of 2pm and 6pm (local time) while supplies last. Better yet, if you order your free Doritos Locos Taco through the Taco Bell mobile app, you don't have to abide by the time limitations; you can get it any time throughout the day for pickup (no additional fee) or delivery (for an additional fee). Either way, just extend your hand, grasp your free taco, maybe squirt some Fire Sauce on it, and eat it. Really, the only difficult thing you'll face is trying not to order seven addition things while you're at it.
MORE: What's the absolute best thing to order at Taco Bell? We found out.
Of course, Taco Bell has a limit of one free Doritos Locos Taco per person, so don't plan on getting your entire lunch for free. A spokesperson for the chain wouldn't say exactly how many free tacos the chain plans to hand out this year, but it will definitely be a lot. Some estimates suggest Taco Bell has given away more than $10 million worth of the tacos in previous years and with mobile ordering available throughout the day this time 'round, that number is likely higher. So, uh, you may want to arrive at your local 'Bell early to get a good spot in the line. Calling ahead to make sure your nearest location is participating in the deal couldn't hurt, too.
And if, for some reason, you can't get your hands on a free Doritos Locos Tacos before the deal expires, you can also score a free taco at Del Taco all throughout the day on Wednesday by downloading the Del Taco app, which contains a coupon for the offer. The other Mexican-inspired fast food chain launched a competing free taco giveaway to expertly troll Taco Bell on its big day. It's unclear how big the stunt will pay off for Del Taco, but one thing is certain: you get another free taco. You win. If your local Taco Bell and Del Taco are located near each other, then even better.
Why is Taco Bell giving out free tacos today?
Do you really need to question it? Just get in line already.
OK, OK -- you're getting a free taco today, thanks to Washington Nationals shortstop, Trea Turner, who triggered the the whole giveaway just by stealing a base in the first inning of Game 1 of the World Series on October 22. The deal is part of Taco Bell's annual Steal a Base, Steal a Taco promotion, which is now in its seventh year. It's pretty simple: everyone in America gets a free taco upon the first stolen base of the World Series. Any player can steal any base during any game. And since a stolen base during the Series is all but inevitable, you can pretty safely count on getting a free taco every year. Unfortunately, Taco Bell only cares about the first stolen base of the Series, so we're not getting free tacos every time someone, say, steals second.
While this year's first stolen base came as early in the Series as you can get, securing free tacos has taken longer in previous years. We had to wait until the 11th inning of Game 2 during the 2017 World Series, for instance. But thankfully, stolen bases have resulted in free tacos every year Taco Bell has run the promotion so far.
"We've created a fun tradition for our fans with Taco Bell and the 'Steal a Base, Steal a Taco' promotion," an MLB official previously said in a statement. "It makes for a unique moment every year during the World Series and certainly the fans will have their eyes on the first stolen base of the Fall Classic."
Turner now joins the ranks of other former "Taco Heroes" -- aka the people who are the first to steal bases in the World Series. That includes Mookie Betts, Cameron Maybin, Jacoby Ellsbury, Jason Bartlett, Ángel Pagán, Lorenzo Cain, and Francisco Lindor. Maybe we'll see a repeat Taco Hero some day.
MORE: Taco Bell's new Baja Blast drink is ridiculous.
So, there you have it. The year is coming to a close, we're all getting free tacos, and baseball is ending. Now we just have to patiently await the NBA Finals in the spring and hope that Taco Bell's similar Steal a Game, Steal a Taco deal returns.
Sign up here for our daily Thrillist email and subscribe here for our YouTube channel to get your fix of the best in food/drink/fun.
Kat Thompson is a staff writer at Thrillist. Follow her on Twitter @katthompsonn.