Everyone Gets Free Taco Bell Today
Just pull up to your local T-Bell drive-thru and ask nicely.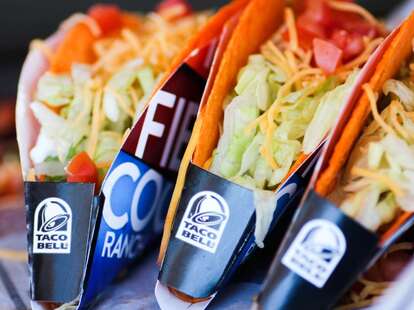 Forget about your lunch plans -- Wednesday's the big day. Everyone in America gets free tacos from Taco Bell on October 28. The Chalupa-slinging fast food chain's annual "Steal a Base, Steal a Taco" giveaway was triggered by the first stolen base of the 2020 World Series during Game 1 between the Los Angeles Dodgers and the Tampa Bay Rays, securing free food for baseball fans and non-fans alike. We repeat: free tacos at Taco Bell. For everyone. Right now. Go.
Yeah, it's kind of weird time to throw a nationwide free taco party, but hey, maybe it's another good distraction to help us get through the week. Or maybe it's a chance to grab a snack when you go out to vote early. Whatever you do, try to make the most of it. It's free food after all, and that's worth celebrating. Here's everything you need to know to get yours:
When and Where to Get Free Tacos
Taco Bell locations all across the United States are handing out the free tacos throughout the day on October 28. All you have to do is swing by your local T-Bell, ask nicely, and they'll plop a meaty and cheesy Doritos Locos Taco in your hand. The deal is limited to one DLT per person. Unlike previous years, you don't have to be there within certain hours to score the freebie, and as always, you don't need to buy anything. That's the thing, though. You're probably going to add a Crunchwrap or maybe a drink to your order to round out your snack/meal. The complimentary DLT is just a lure. Whatever you order, don't forget to ask for a handful of Fire Sauce.
By the way, if you're a Taco Bell Loyalty Rewards program member, you should have already received a promo code for a separate free DLT, meaning the free tcao you get on October 28 could be your second one if you've played your cards right. Or maybe it's your third free DLT lately. Taco Bell offers a bonus free Doritos Locos Taco just for signing up for the program.
When reached by Thrillist, a Taco Bell spokesperson wouldn't say how many free DLTs it plans to give out throughout the day-long feeding frenzy, but it's sure to be a lot. In previous years, estimates suggested the company doled out more than $10 million worth of the tacos, so the number is definitely in the ballpark (pun intended) of several million. In other words, it would behoove you to get in the drive-thru line as early as you reasonably can. You should also keep in mind that it's likely a super-stressful day for Taco Bell restaurant employees who are already under a ton of stress due to safety concerns during the pandemic. Be kind, be patient, and be considerate when you show up for the free food. Don't forget to wear a mask, even if you're visiting the drive-thru.
"The safety of our team members and guests remains our top priority as we continue implementing new ways of engaging and operating amid this rapidly changing health crisis," Mike Grams, Taco Bell's president and global COO, said of the company's COVID-19 safety measures back in April. "We are incredibly proud of our team members across the country who are working hard to implement these changes and taking care of our fans every day."
But don't despair if you can't make it to a Taco Bell location for the freebie. It turns out that Del Taco—not to be outdone by its competitor—is also handing out free tacos on October 28. Make any purchase via the chain's mobile app and it'll give you one of its award-winning tacos for free, according to a spokesperson. The deal is good when you order in the drive-thru or for delivery, but it's not valid if you order through third-party delivery services. While this particular offer is clearly meant to troll Taco Bell on its big day, Del Taco has been treating customers to free food all month as part of its ongoing Tacoberfest celebration. On Halloween, it's offering one final deal: $5 off any Fiesta Pack delivered through the Del Taco app.
Will Del Taco steal customers away from Taco Bell? That's unclear. But what is clear is that you can get your hands on yet another free taco if there's a Del Taco near you. Even better if your local Taco Bell and Del Taco are near each other.
Why Taco Bell's Giving Out Free Tacos
To put it simply, because baseball.
More specifically, because Los Angeles Dodgers outfielder Mookie Betts netted the first stolen base of the Series, triggering the chain's "Steal a Base, Steal a Taco" promotion, which is now in its ninth year. The deal is a simple one: If a player steals a base during the World Series, then everyone in America gets a free Doritos Locos Taco. It doesn't matter who steals it, which team they play for, or the game during which it takes place. And because a stolen base during the World Series is all but certain to happen, you can safely count on getting a free DLT every year. Stolen bases have granted us free tacos every year Taco Bell has run the promotion so far.
In case you're wondering, subsequent stolen bases don't result in additional free tacos; it's just the one and that's it.
The Dodgers went on to win the World Series.
Betts, who previously won everyone free tacos during the 2018 World Series (he was playing for the Boston Red Sox at the time), stole the base in the fifth inning of Game 1 against the Tampa Bay Rays on October 20. The fifth inning of the first game is pretty early for the first stolen base of the series, but it actually happened even earlier last year, when Washington Nationals shortstop Trea Turner stole a base in the first inning of Game 1 against the Houston Astros.
Taco Bell bestows the title of "Taco Hero" on the players who trigger the deal each year, so now that Betts has done it twice, that must make him some kind of Taco Legend.
"Steal a Base, Steal a Taco has become a tradition tied to the World Series and we're thrilled to partner with Taco Bell to bring baseball fans even more to look forward to through this extraordinary postseason," Noah Garden, MLB's chief revenue officer, said in a statement provided to Thrillist via email.
As this very much unusual baseball season comes to a close, it's good to get this bit of normalcy in the form of a free DLT. It's small, but it's something. And, hey, it's the least Taco Bell can do after slashing several menu items—including potatoes—in August and announcing plans to cut the cult-favorite Mexican Pizza, among a few other menu items, next month. Some Doritos cheese dust and a few squirts of Fire Sauce might just help to numb the pain.
Sign up here for our daily Thrillist email and subscribe here for our YouTube channel to get your fix of the best in food/drink/fun.