You Can Get a Week of Free Yoga in Honor of National Yoga Month, Which Is a Thing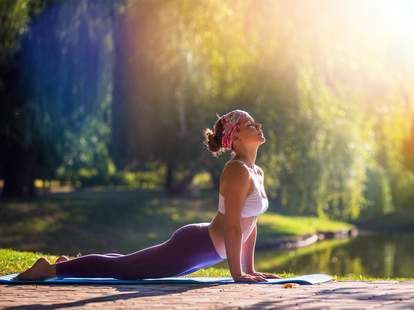 Guess what? There is such a thing as National Yoga Month. Guess what? That month is now. Guess what else? It means you can get a truckload of free yoga backed into your lazy self. There are 1,600 yoga studios across the United States that are giving away a free week of yoga classes, meaning that even if you had no clue about any national yoga anything, there's still some reason to enjoy National Yoga Month.
Here's how it's done: Head to the Yoga Health Foundation website. Enter your information to find a yoga studio near you and they'll email you a coupon that can be redeemed at one of the participating studios. Then you can start downward dogging your way to health. 
There are, of course, a couple catches. The week of free yoga is only good from Sept. 1 to Sept. 30, so you'll need to get a move on. Furthermore, it's only good if you aren't currently practicing yoga at that studio. But if you're just looking to try out the thing that has people carrying sweaty mats all over your neighborhood, this is a pretty painless way to check it out.
Sign up here for our daily Thrillist email, and get your fix of the best in food/drink/fun.
Dustin Nelson is a News Writer with Thrillist. He holds a Guinness World Record, but has never met the fingernail lady. He's written for Sports Illustrated, Men's Journal, The Rumpus, and other digital wonderlands. Follow him @dlukenelson.