Wendy's App Is Giving Out Free Burgers for the Rest of the Month
Your workday lunch struggle is solved for tomorrow. At least, it's solved if you're looking for a cheap burger. Wendy's is offering a solid deal to anyone who has downloaded its somewhat recently updated app.
Since the app was relaunched in November, the burger chain that's almost as well known for being snarky on Twitter as it is for the baked potatoes has been offering deals worth downloading a fast food app. (Because that kind of app is usually useless.) Through February 28, you can land a buy-one-get-one-free deal on a Dave's Single burger or Wendy's Spicy Chicken Sandwich. There's also a deal for $2 off any full-sized salad if you're looking for something less meaty and/or greasy.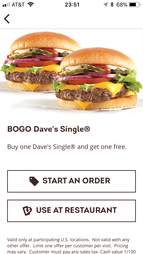 Wendy's App
To redeem the offer, download the app and navigate to the "Account" tab. In your account, click the "Offers" link, and it'll pull up all three deals. You can start an order right in the app or click a link that will allow you to use the deal in-store.
The offer is limited to one per person, but you can go ahead and borrow a friend's phone for your second burger run.
Sign up here for our daily Thrillist email, and get your fix of the best in food/drink/fun.
Dustin Nelson is a News Writer with Thrillist. He holds a Guinness World Record but has never met the fingernail lady. Follow him @dlukenelson.