These French Bulldogs Really Hate Yoda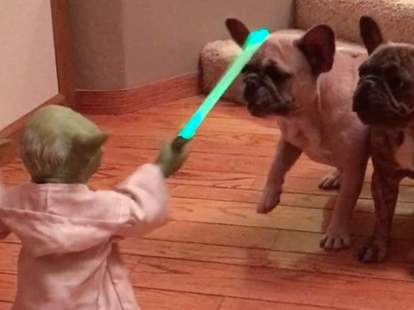 Instagram Screengrab | @adventures_of_crockett_tubbs
Rogue One: A Star Wars Story is arriving this week and humans are going bonkers for it. But will someone please think of the poor dogs? What do the dogs think? Are they excited? Are their sports teams hosting theme nights?
Well, they're glad you asked. Frankly, Star Wars is ruining the holiday season for them. Just ask these two french bulldogs who prepared to stand up to the injustice of it all. They've decided to destroy Yoda.
Crockett and Tubbs, the Instagram star French bulldogs in question, recently had a showdown with an animatronic light saber-wielding Yoda. It didn't go great for the bulldogs, but it was entertaining. In fact, it was so entertaining that their Star Wars-loving human — presumably their social media intern — posted a sequel. A The Bulldogs Strike Back. An Episode II: The Bone Wars.
While you're enjoying Rogue One over the weekend, try to remember that it's not for everyone. Don't rub it in their face. There are French bulldogs everywhere and they really, really hate Star Wars.
h/t Mashable
Sign up here for our daily Thrillist email, and get your fix of the best in food/drink/fun.
Dustin Nelson is a News Writer with Thrillist. No, he's not a French bulldog. Why do you ask? Follow him @dlukenelson.