This Airline's Sale Has $20 Flights All Over the US
October is almost over, which means an inordinate amount of family time and workplace parties are on the horizon. There are enough of these exhausting events coming that calling in sick to each and every one of them might tip people off that you're not interested in spending time with them. What could work is having an unavoidable conflict, like a trip out of town. 
Frontier Airlines, a budget carrier, is running a sale that could help you avoid unseemly political conversations with your aggressive uncle over Thanksgiving. The sale features $20 one-way flights for trips taken by December 18. Those fares can be found in both directions, resulting in round-trip tickets as low as $38.60. However, you'll need to act quickly because the sale ends at midnight on October 30. 
There are 42 routes with $20 one-way fares and 152 that have one-way fares for under $30. Those $20 routes include flights out of Albany, Atlanta, Chicago, Dallas, Denver, Detroit, Nashville, Oklahoma City, Orlando, Philadelphia, Portland, Raleigh, Tampa, Trenton, and Wichita, among others.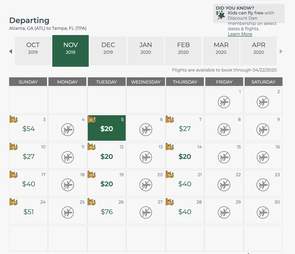 Via FlyFrontier.com
Via FlyFrontier.com
Of course, Frontier is a budget airline. So, you have to be on the lookout for fees that are going to jack up the price. A sale like this can be useful for a short trek when you don't need to worry about having a bunch of bags and can handle sitting by a stranger. Frontier will charge for every bag beyond your personal item and for selecting a seat. However, it's free to have your seat assigned to you at the airport. 
There are definitely sacrifices that have to be made to make a budget airline trip work. But if you can handle it, you could be off to somewhere warm or exciting instead of another Friendsgiving with the neighbors.
Sign up here for our daily Thrillist email and subscribe here for our YouTube channel to get your fix of the best in food/drink/fun.