Frontier Is Holding a Lottery and Giving Away 5 Million Miles
The next drawing is tomorrow, March 31.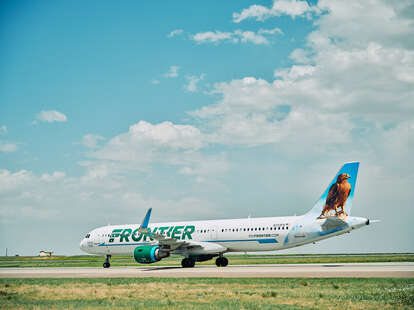 Photo courtesy of Frontier
This time, it is really all fun and games—and no "until." Frontier, the popular airline that offers the iconic unlimited all-you-can-fly pass, is back at it with wild prizes, and it is giving away 5 million miles to lucky customers.
All you have to do is literally be lucky, and play the game, of course. Dubbed "Lott-o Miles," Frontier's newest initiative is its first-ever jackpot giveaway, and it works just like your regular lottery would. Except, instead of numbers, you pick Frontier's ambassador animals. You can pick your favorite five among Eagle, Coqui Llanero, Grey Wolf, Bison, Black Footed Ferret, Resplendent Quetzal, Two-Toed Sloth, Sea Turtle, Eagle, Squirrel, Polar Bear, Fox, Orca, Longhorn Steer, Parrot, Rabbit, Manatee, Bear, Flamingo, Big Horn Sheep, and Moose.
At each of the five drawings, the first person who matches the five animals will win 1 million Frontier miles. And if nobody wins, you ask? Well, in that case, the jackpot will roll over to the next drawing—which means that it will get heavier, and you could win more than 1 million miles. There's a small catch, though: You have to submit an entry for each drawing, as your submissions won't roll over!
Tomorrow, March 31, will be the second drawing day. The next ones will be on April 3, April 5, and April 7, and they will all be held at 2 pm ET. To check if you won, you can follow the drawings live on Frontier's social media accounts.
For more information and to submit your entry, you can visit the Lott-o Miles info page. And best of luck!