If the looming specter of summer in the midst of a nasty late-winter storm has you looking for your next vacation destination, Frontier's flight sale might have the inspiration you need to get the trip booked.
The budget airline's sale includes round trip tickets as low as $40 if you're a member of their "Discount Den" club. (It's a clever name because, you know, their mascot is a bear.) If you're not a member, the low-end of round trip tickets run $66.40 including fees and taxes. 
The routes are limited at the cheapest prices, but there are dozens of routes on sale for cheaper than average prices. Routes with one-way tickets under $35 include flights between Atlanta and Orlando, Raleigh and Philadelphia, Denver and St. Louis, Austin and Las Vegas, Colorado Springs and Phoenix, Denver and Kansas City, Detroit and Trenton, and many others. 
Recommended Video
Thrillist's Best (and the Rest): Traveling With a Partner vs. Traveling in a Big Group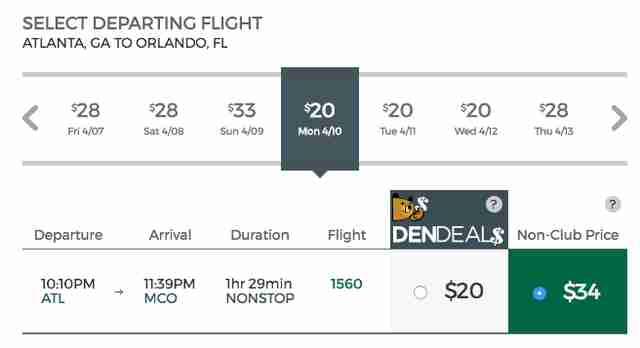 Those prices are worth getting excited about, but don't jump out of your chair quite yet. Frontier is a budget airline and that's synonymous with fees and restrictions. There are no refunds or advanced seat assignment at these prices.
Additionally, Frontier's luggage fees are notoriously complicated. That's because they charge for everything except your personal item. Those fees vary based on a number of factors, including when you pay for your luggage. Paying online and in advance is cheapest.
The charge for a carry-on item purchased online and in advance tends to be between $30-35. So, factor in how light you're able to travel when calculating how much the tickets will run.
However, if you're able to travel with a bag the size of a bindle, you're in good shape. You can take advantage of their sale and put together a getaway cheap enough you might be able to turn your vacation budget into two vacations. 
Sign up here for our daily Thrillist email, and get your fix of the best in food/drink/fun.