Rosé and Champagne Popsicles With Real Booze Will Upgrade Your Summer Plans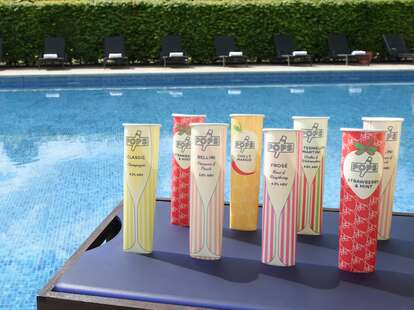 Pops
Pops
If there was an inverse Game of Thrones where no one was beheaded, everyone had a good time, and there was always the looming promise that "Summer Is Coming," these popsicles would be the sigil of every house.
Pops, described as "premium popsicles aimed at adults," has launched a new line of frozen treats called Frosé. That'd be frozen rosé to anyone who doesn't speak popsicle. The pops contain a half glass of rosé blended with raspberries.
Yes, the pops actually contain alcohol. Yes, they deliver. However, they only deliver in the U.K. and to select international retailers. (Unless you're somehow very sneaky. Anything is possible in reverse Game of Thrones.)
"Everyone knows that rosé is the first sign of summer," said James Rae, co-founder of Pops. "Last year saw people creating their own take on Frosé creations and we couldn't resist making our own! The Frosé popsicle is sure to be a summer hit at festivals, events, celebrations and clubs – a perfect cool me down and pick me up."
The Frosé pops are the latest in a line of booze-inspired popsicles that contain real alcohol. There is also a new watermelon martini flavor, as well as Bellini, champagne, and an alcohol-free strawberry and mint. (R.I.P. a Moscow Mule flavor that appears to no longer be available.)
h/t Tasting Table
Sign up here for our daily Thrillist email, and get your fix of the best in food/drink/fun.
Dustin Nelson is a News Writer with Thrillist. He holds a Guinness World Record but has never met the fingernail lady. Follow him @dlukenelson.