Wanna Be a 'Full-Time Ninja?' Japan Will Pay You $1,600/Month to Live the Dream.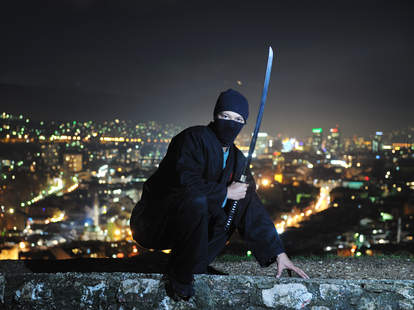 If you find your friends are always underestimating your sneakiness, and you still fit in that ninja Halloween costume, there's a job just for you. Turns out, Japan is low on ninjas -- especially English-speaking ninjas.
Published in a job description in Aichi prefecture in Japan, the listing titled "Wanted: Full-time Ninjas," is looking to hire six individuals with acrobatic and martial arts skills to promote tourism. Sadly, the job description doesn't include stealth assassination missions. But then again, a mission would not be very stealth if it was referenced in an online job description. Instead, modern ninjas will spend most of their time posing for photos, acting as guides, and entertaining the public with stunts.
Check out the English-translation of the job description:
In addition to the skills listed in the job description, Satoshi Adachi of the prefectural government's tourism promotion unit told Japan Times that ninjas are expected "to be able to do backward handsprings and some dance moves," meaning if you're a Chris Farley-type ninja, this isn't the job for you. 
The ninja position only pays the equivalent of about $1,600 per month. But, transportation is paid and there's apparently an unspecified "bonus" involved. Also, there's a one-month training course offered where you can presumably sharpen your ninja skills. Interested candidates of all nationalities who are over 18 years old with a Japanese visa or residence card can apply by sending all application materials via e-mail until March 22, 2016. 
And if the Halloween costume's a little snug, don't worry. Black's a pretty forgiving color.
Sign up here for our daily Thrillist email, and get your fix of the best in food/drink/fun.
Kara King is a News Writer at Thrillist and is not stealth. Send news tips to news@thrillist.com and follow her at @karatillie.