Fyre Organizers Warned Their Own Staff Not to Attend Disaster Festival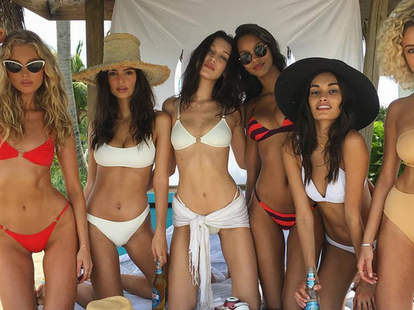 Fyre Festival, the luxury music festival in the Bahamas that descended into chaos and logistical confusion on Thursday, has caught much of the internet's attention. The schadenfreude started on Twitter, when scores of millennials expecting a luxurious weekend in the tropics arrived at a site littered with disaster-relief tents and garbage. There was limited security, no hotel lodgings and mass confusion. Headliners Blink-182, Major Lazer and Disclosure canceled their sets after failing to receive payment.
And according to a report in Motherboard, festival organizers knew that Fyre was destined to be a mess, so they told their staff not to attend. Fyre staffers flew from New York to Miami this week, but were told to stay in Florida, instead of journeying to the festival grounds in Exuma, Bahamas: "We're all getting ready to go to the Bahamas, and one of these new girls calls me on my cell phone and says, 'Hey, don't even bother, there's no accommodations for you guys and you'll be in a bad situation.' So, we didn't even go to the Bahamas, we just stayed in Miami," an employee said.
Employees bought their own tickets back to New York before the chaos on social media ensued, according to the report. Meanwhile, festival goers trying to flee the mess were stranded at airports as flights were massively delayed: "They got us on a plane at 1:30 [a.m.]. We stayed on the plane and they stalled us for five hours for no reason, going down and up the rows checking passports," one woman told Business Insider.
The festival, which was the brainchild of 25-year-old tech entrepreneur Billy McFarland and the rapper Ja Rule, cost between $1,200 and $125,000 to attend, according a former staffer. Fyre used the almost-bacchanal to promote an eponymous app, meant to streamline in the process of hiring celebrity talent for events. Organizers promised face-time with supermodels like Emily Ratajkowski, "gourmet cuisine," and a fleet of yachts at the festival, but instead offered shanty-like dwellings and sad cheese sandwiches.
Fyre employees had apparently seen the financial warning signs for a while. A New York Magazine article written by a former staffer explains that tour managers representing artists were never paid, and that a festival of such lavish magnitude would have needed at least "$50 million to pull off."
For his part, McFarland has apologized, saying in a statement: "We were a little naïve in thinking for the first time we could do this ourselves." He and Ja-Rule say that refunds are being processed and they plan to coordinate the festival for next year. Whether anyone will risk getting duped again, is another question.
Sign up here for our daily Thrillist email, and get your fix of the best in food/drink/fun.