Fyre Festival Allegedly Threatened Attendees Who Were Critical on Social Media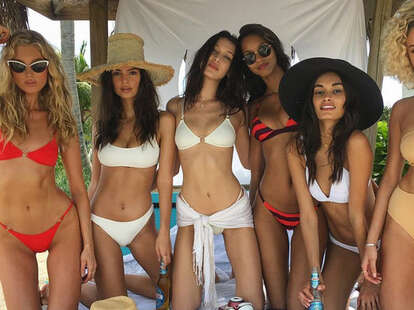 The poorly-executed Fyre Festival is facing a sixth lawsuit, according to a report from Rolling Stone. The legal action against festival founders Jeffrey "Ja Rule" Atkins and Billy McFarland comes from Kenneth and Emily Reel. The North Carolina couple purchased a $4,600 VIP villa for Fyre Festival. However, they never made it to the Bahamas after getting stuck in Miami when it was announced the festival wasn't going to happen. They might count themselves fortunate they were in an airport instead of at the garbage-strewn cheese sandwich banquet the festival became.
The couple is seeking $5 million in damages from the organizers, PR Agency 42West, and the festival's advertising company Matte Projects. The suit alleges "fraudulent misrepresentation, negligent misrepresentation, and fraud in the inducement and violation of the Florida Unfair and Deceptive Trade Practices Act" against all parties, according to Rolling Stone. The suit is also after the organizers for breach of contract.
The court document shared by RS alleges the festival has sent cease and desist letters to "individuals who elected to speak negatively about the Defendants on social media." It was already clear social media clout was a currency Fyre Festival enjoys dealing in. The failed festival spent exorbitant amounts of money on sponsored social media posts from woefully-named "influencers" who rarely, if ever, tagged their social media advertisements as such.
Those who spoke negatively "are now being threatened with legal action," the document alleges. "Specifically, if the social media comments were not taken down, the Defendants claim they could 'incite violence, rioting, or civil unrest,' with the caveat that if 'someone innocent does get hurt as a result ... Fyre Festival will hold you accountable and responsible.'"
The court documents also take a swipe at the festival's refund "applications." shared the weekend of the festival. "This refund 'application' is nothing more than an attempt to save face," the document states. "The Defendants should have information on each purchaser, and should not require an 'application' be completed simply to receive the refund."
This is just the latest fallout from the luxury festival that almost was. Other lawsuits include a $100 million class-action lawsuit. Despite an avalanche of refunds and lawsuits, 81 percent of Fyre Festival "attendees" (did you actually attend something that didn't happen?) say they'd go to the influencer-driven wasteland again next year.
Sign up here for our daily Thrillist email, and get your fix of the best in food/drink/fun.
Dustin Nelson is a News Writer with Thrillist. He holds a Guinness World Record but has never met the fingernail lady. Follow him @dlukenelson.