You'll Be Happier With Less Money in These Cities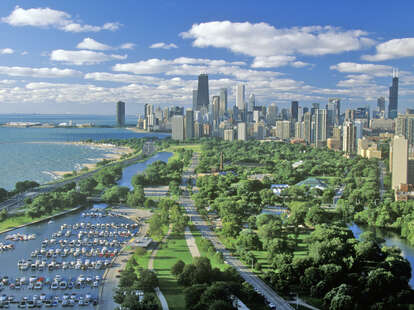 It's a time honored cliche to say that money doesn't buy happiness. But according to new data compiled by Gallup and obtained exclusively by TIME, income does correspond to levels of personal fulfillment and glee throughout the country, although it plateaus at a $75,000 ceiling.
In conjunction with the health company Sharecare, Gallup conducted 450,000 interviews with randomly selected adults throughout the country between January 2014 and December 2016, tracking roughly 350,000 people's daily emotions in respect to income. The results largely skew along regional lines: For instance, someone living in Chicago only needs to make $54,000 a year to reach peak happiness in the Windy City, whereas residents of Los Angeles, Seattle, New York, and Philadelphia all require an income of $105,000 to find the same level of personal enrichment. Atlanta comes in last place among major cities, with $42,000 the necessary salary for happiness.
The aggregate across twelve metro areas is as follows:
Citing its methodology, Gallup asked the following questions: "Did you experience the following feelings a lot of the day yesterday? How about: happiness/enjoyment/smiling or laughter?" The study follows the influential work of Daniel Kahneman and Angus Deaton, Nobel laureates who surmised in a 2010 study that happiness reaches a ceiling at around $75,000 annually.
According to Gallup's new data, happiness has an income threshold in all regions across the country, it's just attained with less money in some places. The study grouped respondents according to region, determining that in the Pacific and the East North Central regions, happiness was achieved when people earned $105,000 and $120,000 per year, respectively. In the middle of the country, happiness comes on the cheap, as the West North Central and West South Central both peak at $54,000.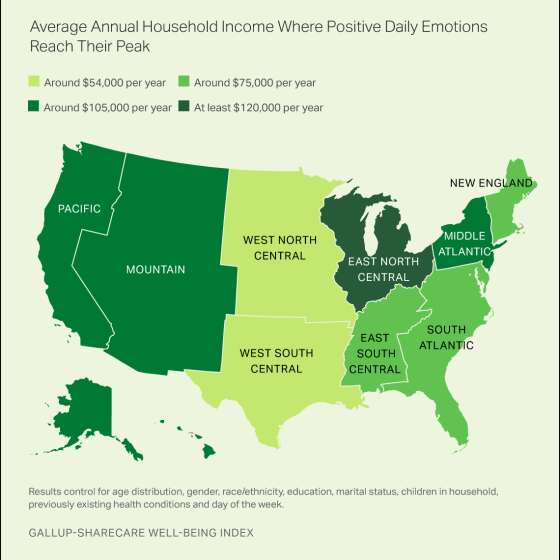 The aggregate doesn't seem to lie, as it hems pretty closely with the median income it requires to own a home in the United States. Additionally, this should come as a bit of heartening news to those who might not be on the cusp of striking it rich.
Sign up here for our daily Thrillist email, and get your fix of the best in food/drink/fun.
Sam Blum is a News Staff Writer for Thrillist. He's also a martial arts and music nerd who appreciates a fine sandwich and cute dogs. Find his clips in The Guardian, Rolling Stone, The A.V. Club and Vice. He's on Twitter @Blumnessmonster.