Ease Your 'Game of Thrones' Withdrawal With This New Cersei-Inspired Beer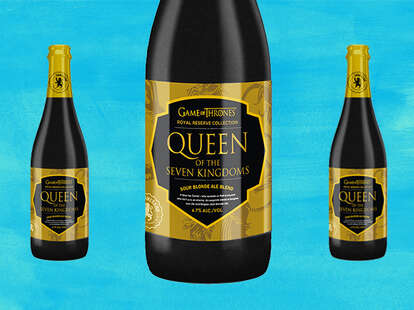 Ommegang | Thrillist
Ommegang | Thrillist
It may be the end of winter, but winter is coming again before you see Season 8 of Game of Thrones. It's going to be a long, long wait.
New York's Ommegang Brewery, home of Game of Thrones-themed beers, is offering a little respite from all the thumb twiddling with a new line of show-themed beers. It's not a part of the series of beers that has recently included the Winter Is Here double white ale, Fire and Blood red ale, and Bend the Knee golden ale. Instead, the four-beer series is called the Game of Thrones Royal Reserve Collection.
Royal Reserve will have four releases this year, including the just-released Hand of the Queen barleywine ale (which makes a lot of sense) and the just-announced Queen of the Seven Kingdoms sour blonde ale blend, which is a blend of a Belgian sour ale and a Belgian-style blonde.
"Cersei is a complex character, and we've tried to emulate that profile with this beer, which blends a lovely, dry blonde ale with a subtly tart Belgian sour," brewery president Doug Campbell said in a statement.
He talks about Cersei, but the wordplay is immaculate and could lend itself to the kind of wild theorizing for which Game of Thrones fans are known. The beer could be referencing Cersei, but you could easily make the case that it's a combination of Daenerys and Cersei in a bottle meant to spark debate about who will wind up being Queen of the Seven Kingdoms. (Though, Cersei's drinking habits make her an obvious choice for a titular tribute.)
The 750 ml bottles will retail for somewhere around $12.99. Queen of the Seven Kingdoms will hit shelves in June. However, Hand of the Queen is out now, and you can track down a bottle with the brewery's beer finder tool. The next two beers in the series won't arrive until the end of 2018.
Then you can debate who is coming out on top over a bottle of the Royal Reserve. It's better than staring blankly at the HBO Go home screen for the next 12 or so months.
Sign up here for our daily Thrillist email, and get your fix of the best in food/drink/fun.
Dustin Nelson is a News Writer with Thrillist. He holds a Guinness World Record but has never met the fingernail lady. Follow him @dlukenelson.