'Game of Thrones: Conquest' Will Help You Wait for Season 8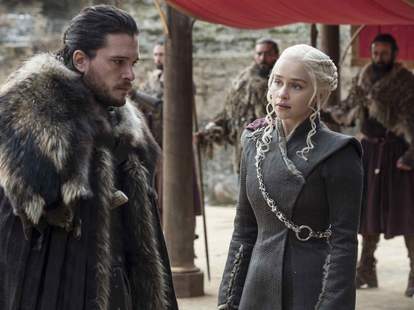 New episodes of HBO's Game of Thrones may have wrapped up for this season, but that doesn't mean its fandom's love for the show has suddenly evaporated. As the theories and predictions persist, so do the cravings for more, more, more of Thrones -- in your eyeballs, in your brain, in your life, all of the time. The latest attempt to slake this desire is a new game about the world of Westeros called Game of Thrones: Conquest.
Conquest is a new multiplayer online game that promises to put players into the environment of their favorite show and fantasy novel series. Playable on your iOS and Android devices, the mobile game sets up its protagonist as the head of one of Westeros' powerful political houses. That means you'll be capable of wielding all the tools at the disposal of the show's most popular characters to your own advantage: alliances, betrayals, armies, strongholds, and even your own small council of advisors. According to information provided by Warner Bros. Interactive Entertainment and HBO Global Licensing, players will have to play the game of thrones "with the ultimate goal of navigating the dangerous political landscape of Westeros and claiming the Iron Throne."
HBO
The promotional copy on the game's website will remind any Thrones fan of the excitement of the show's early seasons -- before George R.R. Martin's books were eclipsed, and before the war against the Army of the Dead took hold of the show's plot. Per the game: "Choose to rule with might or deception! Build your army and fight against others as you grow in power. Command your own small council as you capture iconic Seats of Power such as Winterfell, Casterly Rock and King's Landing."
All of which sounds pretty exciting. There's no set release date for the game just yet, but it should be available later this year. In the meantime, pre-registration is already open, and those who register for the game now can get themselves a "Prepare for War" bundle of in-game supplies and resources for free. It's a $50 value that's only available for the first week, so if you want to score the Night's Watch training gear and 500 pieces of in-game "Gold," pre-register now.
It's not a new season of Game of Thrones, but it's not nothing.