After the fiery fourth episode of Game of Thrones on Sunday night, everyone's talking about the portentous return of the Catspaw Dagger at Winterfell and what it means for the end of the series. And while we probably won't understand the true significance of the Valyrian blade for at least a few more episodes, here's a show secret you can enjoy right now: Jon Snow's furry Night's Watch cloak is actually an old IKEA rug. Really.
As a report by Quartz explains, costume designer Michele Clapton revealed the black, crow-like capes worn by Jon Snow and the brothers of the Night's Watch are made out of simple IKEA rugs that were cut, dyed, and otherwise modified to look like they've been through hell at The Wall... and beyond. That's right: one of the most expensive shows in television history sourced cheap discount rugs for its costumes. The Iron Bank would be pleased.
Clapton explained the surprising detail at the Getty museum in LA last year, but it looks like the revelation is only now getting the attention it deserves -- likely because it's absolutely ridiculous and, well, everyone loves IKEA. 
"We cut and we shaved them and added strong leather straps, and then breakdown, which is like a religion on Game of Thrones," Clapton said, according to video of the talk (shown below). "I want the audience to almost smell the costumes. Here they were waxed and frosted so they belonged to the landscape."
Recommended Video
These Tacos Are Made for Dunking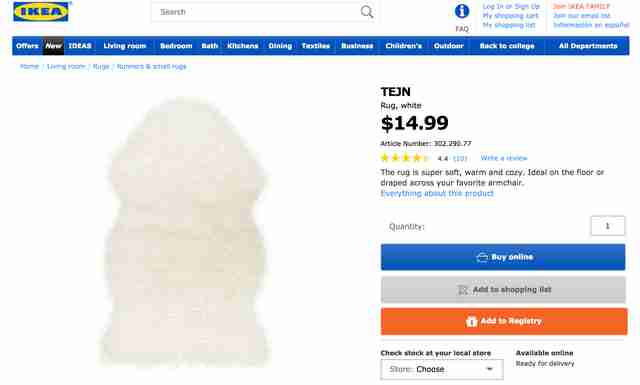 So far, it's unclear exactly which IKEA product Clapton's team used to create the capes, but the company's TEJN rug looks pretty damn close if you imagine it in black, riddled with knife holes, and heavy with the ghosts of many long winters. IKEA describes the rug as "super soft, warm and cozy," which is, of course, the exact opposite of the current conditions along the icy structure keeping the dead from the living. 
Sure, this information does nothing to answer your, uh, burning questions after the latest episode or help to keep you from falling down the Drogon-sized rabbit hole of Reddit fan theories until next Sunday. But, hey, at least you know where to go now for your Jon Snow Halloween costume in a few months.
Sign up here for our daily Thrillist email and subscribe here for our YouTube channel to get your fix of the best in food/drink/fun.