Vacation in Westeros With These 'Game of Thrones'-Themed Airbnb Homes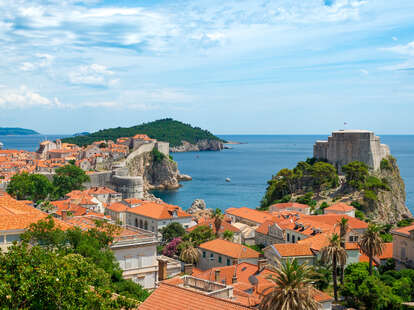 Airbnb
Airbnb
Living in Westeros doesn't seem particularly pleasant. It doesn't matter if you're one of the warring Queens, a conniving bastard like Littlefinger, or a peasant doomed to have a run-in with The Hound, life is hard. The mortality rate is unreasonably high in Westeros.
Better than booking a ship to Dragonstone, Airbnb has a handful of rentals that will make you feel as though you're spending a weekend inside Game of Thrones. In fact, some of the homes are sitting right on top of actual filming locations for the show. Here are a few options for the Game of Thrones-inspired traveler.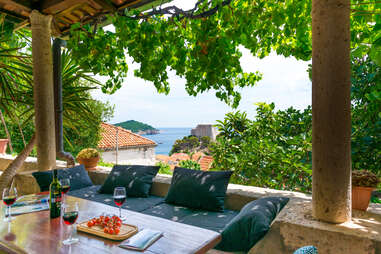 King's Landing
City: Dubrovnik, Croatia
Dubrovnik will remind you of King's Landing because it's the city where many King's Landing scenes are shot. (The view from this rental is seen at the top of the page.) Dubrovnik's old world charm on the water is beautiful, and this hillside rental at one of the area's older homes has an impressive view of the St. Lawrence fortress. This view plus a glass of wine will turn you into Cersei Lannister standing on a balcony overlooking the capital of Westeros. It's not explicitly in the house rules, but you probably shouldn't bring your own Ser Gregor.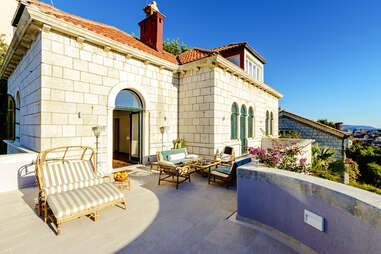 King's Landing
City:Dubrovnik, Croatia
This is another option near the Old Town of Dubrovnik. Though it is a bit pricier, it accommodates 12 visitors, making it perfect if you're visiting King's Landing with the High Council.
Braavos
City: Girona, Spain
While it's far more modern than anything you'll find on the show, this home overlooks Sant Domènec Square. The iconic steps at Sant Doménec were used for Arya's battle with the Waif. These are the steps she tumbled down during their fight. The house has been modernized, but it dates back to the 16th-century. Its stone walls will make you feel like the Hand of the King. (Less the impending doom that seems to await every Hand of the King.)
King's Landing
City:Girona, Spain
Right outside the window of this rental are the steps at the Catedral de Girona where the High Septon joined hands with King Tommen and Queen Margaery during Season 6. The home was renovated in 2002, but you're still going to have a tough time sleeping at night knowing about all the wildfire hidden under the Great Sept of Baelor outside. At least no one will chant "Shame. Shame. Shame." when you eat leftover paella for breakfast.
Winterfell
City:Cashel, Ireland
This castle is a good deal smaller than Winterfell, but it bears some resemblance, even if you don't go in the fall and tell everyone you see, "Winter is coming." Hackett Castle is a 15th-century tower house, which is a bit like a keep but designed as living quarters for a family.
Riverrun
City: Kilcolgan, Ireland
The architecture isn't exactly Riverun (maybe a little more Winterfell-like in the winter), but it sits right on a river and is a large, spacious castle. Kilcolgan Castle is just a short drive from Galway City and has easy access to Connemara, Aran Islands, and Cliffs of Moher for day trips.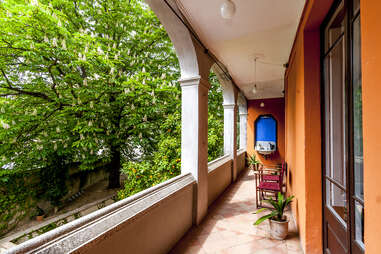 Qarth
City: Girona, Spain
It's not a walled city, but the lush gardens and terraces of Casa Mercè in Girona's Old Neighborhood have echoes of Qarth's opulent greenery. Also, it's slightly better than Qarth because there aren't any shape-shifting warlocks looking to steal your dragons.
Sign up here for our daily Thrillist email, and get your fix of the best in food/drink/fun.
Dustin Nelson is a News Writer with Thrillist. He holds a Guinness World Record but has never met the fingernail lady. Follow him @dlukenelson.