Being afraid of heights is totally rational, but if you've been meaning to face your fear once and for all, there's a new destination that'll give you ample opportunity. The longest pedestrian suspension is about to open to the public in Tennessee, and it's perched 140 feet above the ground, surrounded by sweeping views of the Great Smoky Mountains. 
The SkyBridge, which officially opens to the public on May 17, is located above Gatlinburg, Tennessee, and stretches a whopping 680 feet across a valley. To put that in perspective, walking from one side to the other is like walking the length of nearly two full football fields through the sky.
Recommended Video
Please Don't Hang Up: The Best Things to See, Eat, and Do in Seattle, WA
Along the way, you get a panoramic view of the expansive Great Smoky Mountain National Park and downtown Gatlinburg. Plus, in the middle you'll get a sense that you're floating, because there's a brief section where the floor is made of glass panels. Unless you are in fact horribly afraid of heights, in which case you'll get a sense of sheer and utter panic.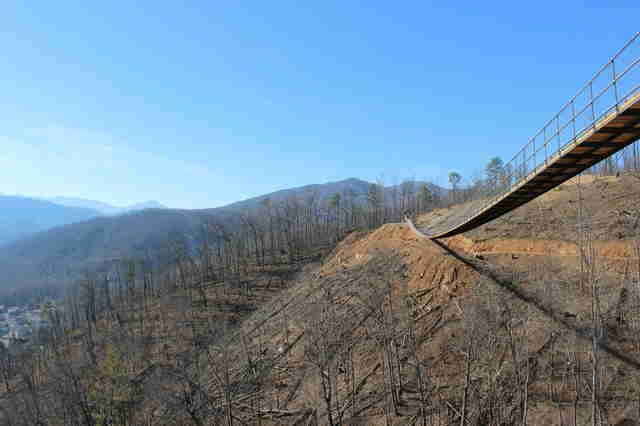 Visitors will be able to walk across the five-foot-wide path at their own pace, snap some pics or just take in the views, then walk back when they're ready. You can't just drive up there, though. You need to buy a ticket for the SkyLift, a special chairlift that takes you up to the top of Crockett Mountain, which'll set you back $15. Once you're at the top, you'll also be free to explore the soon-to-open SkyDeck, where you can hang and watch people cross the bridge, take in the view, and grab a snack or a craft beer. 
And sure, the SkyBridge is one great reason to swing through Gatlinburg sometime soon, but there's plenty more to see, drink, and do while you're in the area, too. 
h/t Travel & Leisure
Sign up here for our daily Thrillist email and subscribe here for our YouTube channel to get your fix of the best in food/drink/fun.