Here's How You Can Win a Free Trip to the Super Bowl
You have until the end of the day to enter the contest.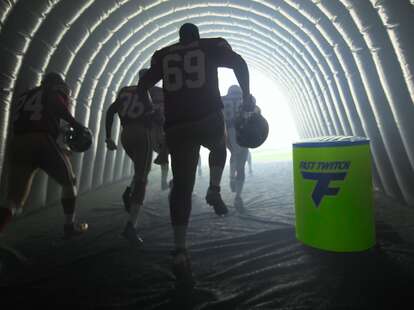 Photo courtesy of Fast Twitch
Photo courtesy of Fast Twitch
Can you picture the iconic Super Bowl stadium tunnel where players get hyped before the game? Now picture yourself running through it just like the real NFL athletes.
Fast Twitch, a new energy drink by Gatorade, is looking to give one lucky football fan and two buddies the opportunity of a lifetime. The three lucky winners will get tickets to Super Bowl LVII in Glendale, Arizona, and they'll get the exclusive opportunity to run out of the pre-game tunnel and into State Farm Stadium just a few days before the Super Bowl pros walk, skip, and run down the same path. Additionally, the winner will get access to Fast Twitch's immersive tunnel installation, where they will also be able to taste the new energy drink, which is hitting the shelves in February nationwide."I love that electric pre-game feeling, running from the tunnel onto the field with thousands of fans screaming," George Kittle, Fast Twitch athlete and San Francisco 49ers tight end, said in a statement. "This is an opportunity for anyone to experience what NFL players go through to get hyped to compete on the world's biggest sports stage."
Entering for a chance to win is simple. You have until the end of today, January 31, to use the Fast Twitch custom filter and share your post on TikTok or Instagram with the hashtag #FastTwitchContest. You also need to submit your entry on this website to be considered.
For more information on how to participate, you can visit this link.