This Tiny Portable Air Conditioner Will Keep You Cool Anywhere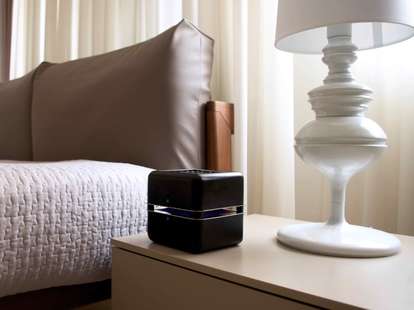 Idea 3Di
Idea 3Di
When the summertime temperatures climb to Mercury-like levels, you might feel inclined to sit in front of your eyesore of an air conditioning unit. Well, now you can get the cool without the ugly, thanks to this portable air conditioning box that'll fit in at your office, the subway, or wherever you sweat your ass off.
The "Geizeer," featured on Kickstarter in May, is a mini, eco-friendly, and portable air conditioning box that'll keep you cool for hours and can be charged with a USB. The little cube utilizes an ice pack and a fan to blast out 360-degrees of cool air. The cooling elements last for 4 hours, and the machine itself keeps a charge for 7 hours, which is a decent amount of cool-down time.
To operate this gizmo, you just take off the top of the box, put your ice pack in, and then put the top back on to start it up. It also acts as an air freshener if you throw in the provided diffusers. Here's how it works:
Of course, this won't replace your at-home air conditioner, being that it's a tiny box that isn't intended to cool down your whole apartment. Still, it's pretty nifty for the workplace.
The Geizeer already reached its Kickstarter goal, and its Italian makers hope to start shipping by September. Right now, you can purchase one on the Kickstarter page for $97.
Buy one and you'll be so much cooler than your coworker with the personal fan.
Sign up here for our daily Thrillist email, and get your fix of the best in food/drink/fun.
Kara King is a News Writer at Thrillist and is always cold anyway. Send news tips to news@thrillist.com and follow her at @karatillie.