This Map Shows The Most Searched For Holiday Recipes in All Fifty States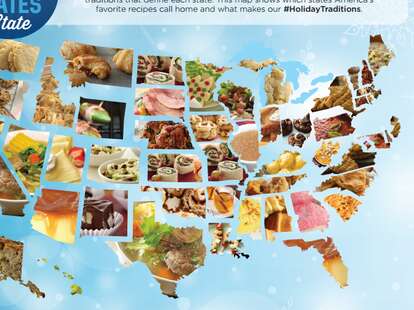 General Mills
General Mills
The holidays are rife with traditional foods and the knowledge that gaining weight right before January 1 fits conveniently with most New Year's resolutions. But what holiday dishes are Americans most infatuated with? The good folks at General Mills compiled holiday recipe search data from its Betty Crocker and Pillsbury websites, designing this map for your gluttonous pleasure.
So where does your state fall on the holiday food map? If you're an Iowan, you're pretty down with sports bar fare, so you eat Sliders with grandma instead of going to Buffalo Wild Wings with your pals. Connecticut keeps it zany with searches for Monkey Bread, which is neither composed of monkeys or prepared by them. Tennessee likes sausage balls -- not meatballs, you fool -- North Carolina keeps it American by searching for good ole' apple pie, and California likes to eat Caldo de Res (Mexican beef soup) next to the Christmas tree or Menorah or whatever symbol or non-symbol best crystallizes the holidays for you and your kin.
If you want see how your state stacked up, take a gander at the map below, then check out the full list of states.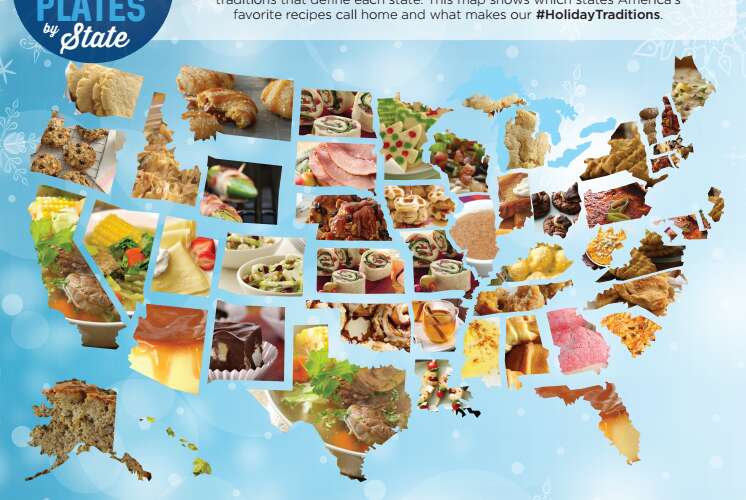 Alabama: Crescent Recipes

Alaska: banana bread

Arizona: flan

Arkansas: cider

California: caldo de res

Colorado: ensalada de manzana

Connecticut: monkey bread

Delaware: gingerbread cookies

District of Columbia: peanut butter cookies

Florida: flan

Georgia: pan dulce

Hawaii: guacamole

Idaho: coleslaw

Illinois: hot chocolate

Indiana: french toast

Iowa: slider

Kansas: pinwheels

Kentucky: dumplings

Louisiana: shrimp appetizers

Maine: chowder

Maryland: crab cake

Massachusetts: cinnamon french toast bake

Michigan: sugar cookies

​​​​​​​ Minnesota: christmas cookies

Mississippi: deviled eggs

Missouri: pinwheels

Montana: cake mix cookies

Nebraska: grands!® monkey bread

Nevada: sopa de res

New Hampshire: monkey bread

New Jersey: peanut butter cookies

New Mexico: fudge

New York: peanut butter cookies

​​​​​​​North Dakota: pinwheels

North Carolina: apple pie

Ohio: buckeyes

Oklahoma: cinnamon rolls

Oregon: chocolate chip cookies

Pennsylvania: crab cake

Rhode Island: apple pie

South Carolina: breakfast casserole

South Dakota: ham

Tennessee: sausage balls

Texas: sopa de res

Utah: crepes

Vermont: peanut butter balls

Virginia: peanut butter cookies

Washington: sugar cookies

West Virginia: buffalo chicken dip

Wisconsin: taco dip

Wyoming: jalapeno popper
Sign up here for our daily Thrillist email, and get your fix of the best in food/drink/fun.
Sam Blum is a News Staff Writer for Thrillist. He's also a martial arts and music nerd who appreciates a fine sandwich and cute dogs. Find his clips in The Guardian, Rolling Stone, The A.V. Club and Vice. He's on Twitter @Blumnessmonster.