Get Paid $1,000 to Host a Brunch via Video Call With Your Friends
Instead of posting your food to Instagram, you can share it via video and get paid.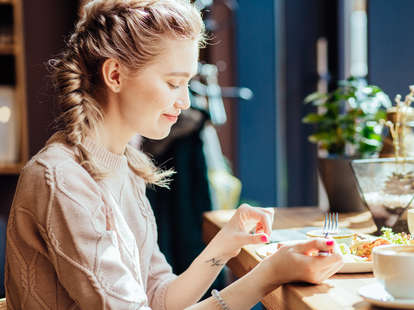 You probably wouldn't have guessed one year ago that today you'd be spending time giving yourself a haircut, attending virtual happy hours, and churning out homemade bread like you're planning on opening a bakery. You also probably weren't thinking much about hosting a virtual brunch or how you could get paid for it.
Yet, here we are. Whistle Out, a company that compares phone and internet rates, is offering a gig that pays you $1,000 to host a short series of virtual brunches with your friends. The selected host will organize three events bringing together their friends through video chatting apps. Your job will then be to just report back about how the services performed.
Whistle Out is giving you the option of hosting through Houseparty, Bunch, Airtime, Squad, and Rave. For your troubles, you'll get the one grand as well as a $300 gift card to Grubhub.
To apply, you fill out a short form offering 200 words about why you and your friends are the crew for this very temporary gig. You'll have to get that application in their inbox by 11:59pm PST on May 15 to be considered for the easy $1,000. It'll almost be like old times, except instead of taking a picture and posting it on Instagram, you'll be carrying your laptop around the table to show off to your friends in realtime.
Sign up here for our daily Thrillist email and subscribe here for our YouTube channel to get your fix of the best in food/drink/fun.