This Company Will Pay You to Travel Europe for Six Months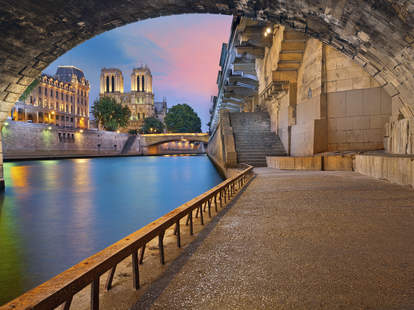 The only thing better than a six-month vacation is getting paid to go on a six-month vacation. That's what one company is offering right now.
European travel company Busabout is hiring two lucky souls to laze about Europe stopping at bars, landmarks, tourist traps, restaurants, parties, and everything in between. They're looking for "two travel addicts" who want to turn being on vacation into a job. They'll take the positions of brand ambassador and video producer.
The job description says the pair will take "idyllic strolls along the Seine, visiting ancient castles in the Czech Republic and climbing to the top of Europe in the Swiss Alps" and they'll sail "the crystal clear waters of the Adriatic coast, island-hopping [their] way to the most stunning Greek sunset, partying it up in Ibiza & having a stein (or three) at Oktoberfest!"
While the pay isn't specified and probably isn't going to blow you away, the company covers travel, admissions, and accommodation, as well as providing a daily food stipend. (Busabout had not responded to a request for specifics on pay at the time of publication.)
It appears the travel itinerary is set and the duo will hop around putting together vlogs and social media posts for the site, detailing their travels. Based on a map on the job page the lucky duo will hit Amsterdam, Barcelona, Berlin, Bruges, Budapest, Krakow, Madrid, Nice, Paris, Prague, Rome, Split, Tangiers, Venice, and a load of other cities.
The application form is short and it appears the big piece they're looking for is a YouTube video where you show off your skills. But if this is your dream job, you better hurry up. Applications are due by March 5. 
It's a six-month gig, but how often is your job sending you to Europe to drink and see the sights? (If the answer to this question is anything but "never," don't leave your job.)
h/t Yahoo
Sign up here for our daily Thrillist email, and get your fix of the best in food/drink/fun.
Dustin Nelson is a News Writer with Thrillist. He holds a Guinness World Record but has never met the fingernail lady. Follow him @dlukenelson.