This Company Will Pay You $10,000/Month to Live at Luxury Resorts in Cancun
Despite all the times you've promised yourself a merciful escape from social media, email, and your phone while on a vacation, chances are you end up posting a near-endless stream of photos and videos of your trip the entire time. If that sounds about right, then you may be exceptionally qualified for a new job that'll pay you tens of thousands of dollars to live in Cancun and do exactly that while you explore its luxury hotels, stupidly beautiful beaches, and other attractions. Yes, really.
Cancun.com, a travel website for planning vacations to the Mexican resort destination, announced it's currently seeking applicants for a new position that will send you to live in the city for six months and document all of your experiences there on social media. Although it's only temporary, the gig comes with the legitimately cool title of CEO — Cancun Experience Officer — and an even more enticing salary of $10,000 a month. They'll also cover all of your expenses while you sip cocktails on the beach and scale the area's 3,000-year-old Mayan pyramids, for example.
The company describes the position as "the most enviable job on the planet," which is a bold claim considering similarly spectaculardream jobs that have emerged this year. More specifically, the official job description said the CEO will be tasked with "generating videos, social media content and blog posts for Cancun.com and its social channels through first-hand experience of Cancun and its attractions" during the six-month stint from March 2018 though August 2018. In other words, you'd literally get paid to live, play, and party in Cancun as its unofficial ambassador.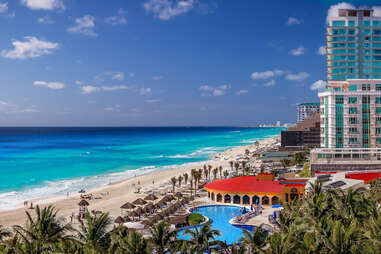 "We can't wait to get started on our search for a CEO to be the face and personality of Cancun. Getting paid to live and travel around Mexico is a once in a lifetime experience," Chad Meyerson, the travel site's general manager, said in a statement. "It's truly one of the most remarkable travel destinations, and we want to make sure we find the right person to help us show the rest of the world everything Cancun has to offer, from the culture and community to its beautiful hotels and pristine beaches."
Here are some examples of what the job will entail, according to the company:
Sleeping in luxurious beds overlooking the most pristine beaches
Scaling 3,000-year-old pyramids followed by a swim with a 40,000-pound whale shark
Sipping an ice-cold beverage before teeing off 200 yards down an ocean fairway
Mingling with locals and tourists at your VIP table in the hottest clubs
Coordinating charitable projects with local organizations to support education, health and well-being
That's a lot of responsibility. It's a wonder how anyone will cope with such a workload.
To apply for the job, all you have to do is create a one-minute video explaining why you'd be the best CEO and how you'd approach showcasing Cancun's attractions and culture, then fill out the online application form before the December 18 deadline (check out the countdown clock right here). The company even provides a downloadable kit with tips on how to promote yourself during the application process.
You don't have to have any experience as a social media editor or travel blogger, but Cancun.com said candidates must be able to live in Cancun for the six-month period without interruption, must be 18 years old or older, and must have a valid passport, among other terms and conditions you should read before you apply. The company said it plans to contact the top 100 applicants in late December to assign them "their next mission" before narrowing the pool to 50 candidates by January 4, 2018. On January 17, it'll announce five finalists who will travel to Cancun for the last round of the selection process. Finally, the winner -- the new CEO -- will be announced on January 31, according to a press release.
So, if you've been thinking about a drastic change of scenery and don't mind completely upending your life for what's essentially an extended vacation, now might be a good time to drop everything and get started on your video. Just try not to think about readjusting to your boring normal life when it's all over.
Sign up here for our daily Thrillist email and subscribe here for our YouTube channel to get your fix of the best in food/drink/fun.

Tony Merevick is Senior News Editor at Thrillist and wonders how rough it'll be moving back home an and adjusting to a "normal" job afterwards. Send news tips to news@thrillist.com and follow him on Twitter @tonymerevick.