Gevalia Wants to Pay You $5,000 to Live in a Scottish Castle & Drink Coffee for a Week
Courtesy of Gevalia Kaffe
I wouldn't call myself caffeine dependent per se. I just can't survive the day without at least four cups of coffee. And while some have called my high coffee intake "excessive" and "definitely unhealthy," it could very well score me $5,000 and a week-long luxury stay in a Scottish castle. Or you. Thanks to Gevalia, the caffeinated trip of your dreams is up for grabs.
Gevalia Kaffe, a Swedish coffee company, announced Wednesday that it's hiring a Coffee Queen (or King!) to spend an entire week at the Carlowrie Castle in Edinburgh, Scotland, and the only requirement is that you've got coffee is pulsing through your veins. Decaf drinkers need not apply.
"Gevalia believes a Queen is anyone who transforms into the most confident version of themselves after that first cup of coffee -- they speak their minds, are self-aware, and aren't afraid to make fun of themselves," Senior Associate Brand Manager Tina Bletnitsky said in a statement. "At Gevalia, we want to celebrate the Queen in everyone, and now we're just making it official."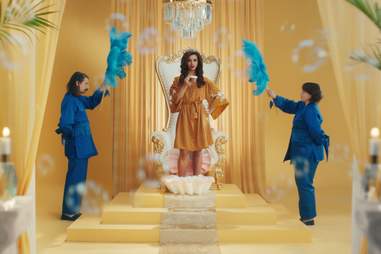 Courtesy of Gevalia Kaffe
The castle boasts 12 expansive bedrooms, 11 bathrooms, and 32 acres in which you can explore after your hourly coffee binge, but the luxury hardly ends there. The experience includes a personal butler, coffee-inspired spa treatments, top-notch catering, and private barista lessons, according to the company.
Courtesy of Gevalia Kaffe
Here's how the application process works: navigate on over to the site, gush about your passion for cold brew, flat whites, or whatever you're into. You can enter any time from now through December 20. A winner will be crowned, a $5,000 stipend check awarded, and the Carlowrie Castle doors will open wide to let fresh coffee smells waft out.
Sign up here for our daily Thrillist email and subscribe here for our YouTube channel to get your fix of the best in food/drink/fun.
Megan Schaltegger is a staff writer at Thrillist. Follow her @MegSchaltegger.