There's a Brand New Lemon Girl Scout Cookie for the 2020 Season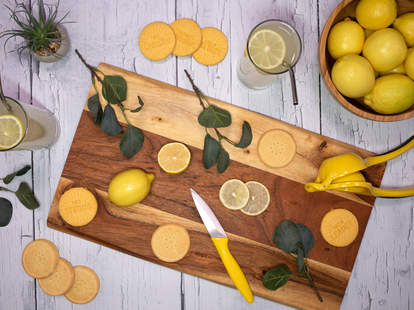 Courtesy of the Girl Scouts of America
Girl Scout cookie season is almost upon us, which means a few things: 1) the debate between Do-Si-Dos and Tagalongs for peanut butter cookie supremacy will start up again, 2) I will eat entire boxes of Samoas with little to no shame, and 3) Girl Scouts will debut yet another lemon cookie. For 2020, Savannah Smiles, the powder sugar-dusted lemon cookies that debuted in 2012, are being retired and replaced by new lemon cookies called Lemon-Ups.
Girl Scouts of the USA unveiled the new cookies on Tuesday, officially ushering in the 2020 Girl Scout cookie-eating season. The organization describes Lemon-Ups as crispy lemon-flavored cookies featuring a coating of sweet lemon on the bottom. Each cookie sports a supportive message inspired by Girl Scout entrepreneurs, like "I am a go-getter" and "I am an innovator."
"GSUSA works closely with its licensed bakers to replace cookies and bring new ones into the mix based on sales, flavor trends, and consumer preferences. The timeline for introducing new Girl Scout Cookies varies, but in the past 10 years we've had exciting new cookie news to share every 1-2 years," a spokesperson for GSUSA told Thrillist. Most recently, that includes the introduction of the Girl Scout S'mores sandwich cookie and a caramel chocolate chip cookie.
Girl Scouts of the USA couldn't explain exactly why the lemon-flavored cookies in its lineup seem to be replaced most frequently. Prior to Savannah Smiles being exiled, Lemon Chalet Cremes were axed in 2010. The spokesperson, however, did share that "in partnership with our bakers, GSUSA starts by doing a market assessment and looking into flavors that could be popular or trending with consumers," which we can only assume means that consumers want lemon cookies, they just also want to be excited by new offerings.
Though I personally was a huge fan of the Savannah Smiles, I'm excited to also get a box of Lemon-Ups from my niece. After all, as GSUSA CEO Sylvia Acevedo said in a press release, "Everyone loves Girl Scout Cookies -- but the program is about so much more than cookies."
Yup. It's about hustling from a very young age -- so support the little entrepreneurs and cookie slingers in your life and begrudgingly buy some Lemon-Ups from your co-worker's daughter.
Sign up here for our daily Thrillist email and subscribe here for our YouTube channel to get your fix of the best in food/drink/fun.
Kat Thompson is a staff writer at Thrillist. Follow her on Twitter @katthompsonn.