There are few things so prized during a vacation as the perfect view. A cantilevered cabin with floor-to-ceiling glass sides hanging over the sea definitely fits the bill. Well, for a price, you can now get just that.
Off the Map Travel, known for offering unique and frequently Arctic travel packages, has launched a package that includes stays in partially glass residences. The glass-walled cabins overlooking the fjords in northern Norway are located on a 55-acre private island and provide an idyllic view of the Steigen Archipelago and fjords. 
Though it sounds cold, they're available for summer months when your only qualm about the glass walls might be the midnight sun. (The walls of the sleeping quarters are not all-glass.) The cabins also offer an incredible spot to catch the northern lights if you're there at the appropriate time.
Recommended Video
Debatable: Is Shake Shack Really Fast Food?!?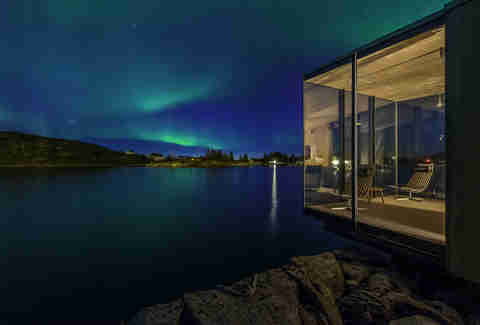 "Whatever season, the cabins give you a direct connection with the wilderness of this spectacular region," Jonny Cooper, founder of Off the Map Travel, said in a statement announcing the launch. "There is no better way to feel a part of northern Norway than watching the spectacular views and wildlife, from your front row seat."
The cabins are "the brainchild" of Børge Ousland, the first person to travel to the North Pole alone in an unsupported expedition. He purchased the island in 2010. The cabins attempt to emphasize a balance between nature and mankind with a goal of being climate neutral within five years.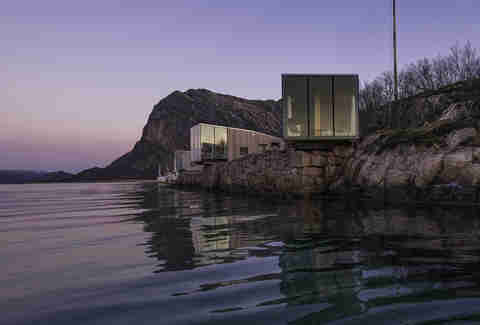 In addition to a private cabin, guests have access to an 18th-century farmhouse with an open kitchen and dining lounge. There is also an expedition library filled with books from Ousland's private collection, as well as a hot tub, salt-water pool, and beach. Summer travel to the cabins includes the option of snorkeling, rock climbing, hiking, and sailing. Meanwhile, winter travelers can go kayaking, snowshoeing, explore the Resshola Cave, and watch the northern lights from a hot tub or their room. 
As you might expect, Arctic travel does not come cheap. A four-day, three-night trip between April and September will cost nearly $2,000 for two people. That includes food, activities, lodging, and boat travel to the island. It, however, does not include your flight to Norway. That's a stiff price, but one-of-a-kind experiences in remote regions are rarely cheap. (Fortunately, those affordable flights to Hawaii are finally arriving.)
Sign up here for our daily Thrillist email and subscribe here for our YouTube channel to get your fix of the best in food/drink/fun.