Here Are 20 of the Most In-Demand Jobs That Pay Over $100,000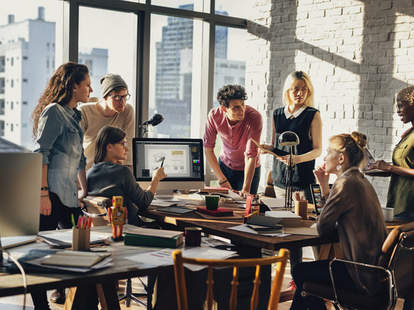 Work sucks and then you die, unless of course you've found gainful employment as an anesthesiologist in South Dakota. But if you're not intent on living in the icy wilds of middle America, you might look to Glassdoor's new study, which uncovered the 20 most in-demand jobs in the country, all of which pay over $100,000 annually. 
Glassdoor parsed through a variety of data pertaining to jobs listed on its site, all of which were searched for over 1,000 times during the last 30 days. The findings indicate that there's a bottle-neck of applicants vying for elite jobs -- especially so if it's been your childhood dream to earn $150,000 a year as a patent attorney. It probably hasn't, and unfortunately "astronaut" and "superhero" are nowhere on the list. (Don't show this study to your children).
According to Glassdoor's report, there are literally thousands of these jobs currently available on the site, so get those resumes ready, or maybe learn how to code. 
See below for the top 20: 
1. Creative Manager - $112,000
2. IT Manager - $118,000
3. Data Scientist - $110,000
4. Supply Chain Manager - $102,000
5. Pharmacist - $120,000
6. Procurement Manager - $104,000
7. Finance Manager - $118,000
8. Medical Science Liaison - $140,000
9. Engineering Manager - $145,000
10. Patent Attorney - $150,000
11. Management Consultant - $110,000
12. Technology Manager - $140,000
13. Product Marketing Manager - $116,000
14. Product Manager - $110,00
15. Financial Planning and Analysis Manager - $115,000
16. Design Manager - $108,500
17. Software Engineering Manager - $150,000
18. Hardware Engineer - $110,000
19. Technical Project Manager - $100,000
20. Software Engineer - $100,000
In a surprise to absolutely no one, technology gigs form a large portion of the group's findings. Hell, even the base internship salaries guaranteed at top tech firms dwarf what you might earn as a full-time employee without coding skills. In any case, consider carefully what you study in college, because there is a correlation between your major and the entry-level salary you might earn at your first job. 
Sign up here for our daily Thrillist email and subscribe here for our YouTube channel to get your fix of the best in food/drink/fun.
 
Sam Blum is a News Staff Writer for Thrillist. He's also a martial arts and music nerd who appreciates a fine sandwich and cute dogs. Find his clips in The Guardian, Rolling Stone, The A.V. Club and Esquire. He's on Twitter @Blumnessmonster.