Glenlivet Has Basically Made Whisky Tide Pods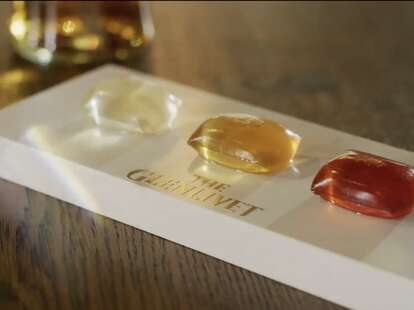 Courtesy of The Glenlivet
It's a brave new world out there. There are garbage cans that take themselves out to the curb, spy agencies get awards for their transparency (even if the agency won't share details about the award), and Hershey's is making beer. Now, The Glenlivet is offering its whisky in capsule form, making your bartender look a bit like a low-rent Morpheus when they serve up your "drink."
One of the world's best-selling Scotch brands has shared the first taste of a wobbly, seaweed capsule loaded with its famed brown liquid. Each of the Capsule Collection's three different pods holds 23 milliliters of cocktail, to be enjoyed simply by biting down on the capsule. A flood of Scotch cocktail, each crafted by London's Tayēr + Elementary bar, fills your mouth, and you just swallow the biodegradable seaweed-based capsule skin. That's right, cocktails and not straight Scotch.
The Glenlivet became the first alcohol brand to partner with Notpla, a sustainable package start-up that created the seaweed pouches. While seaweed is a sustainable resource, arguably so are the reusable glasses that people generally use to drink scotch. "As a brand that celebrates originality, we are always looking to break the conventions that have determined how single malt Scotch has historically been enjoyed," Miriam Eceolaza, The Glenlivet director, said in the company's announcement. "The Glenlivet Capsule Collection does exactly that, and we're excited to see how people react when they try our glassless cocktails."
The capsules launched as part of London Cocktail Week. You can grab one at Tayēr, where they're served as "an amuse-bouche on arrival" through October 13. A representative told Food & Wine that the capsules are not yet approved for consumption in the US.
Of course, many Scotch lovers were excited about the capsules, but others made jokes about it because they look a hell of a lot like a Tide Pod.
On the one hand, who can turn away from a good Tide Pod joke? On the other, there are legitimately a bunch of instances where this kind of packaging would make sense. As noted by Alice Wong on Twitter, a capsule could be an easy, accessible solution for people who may have trouble opening bottles or pouring. Additionally, with The Glenlivet, the sustainability angle may be lost a bit, but this kind of packaging could be great in instances where reusable glasses aren't provided, like, say, an airplane.
Sign up here for our daily Thrillist email and subscribe here for our YouTube channel to get your fix of the best in food/drink/fun.