Goat Parkour Is Way Cooler Than Human Parkour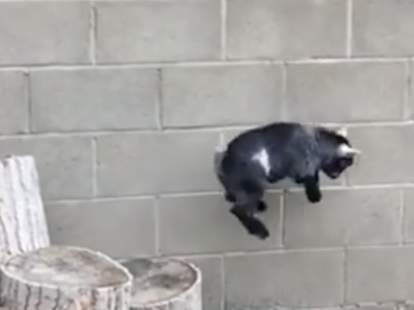 Screengrab via @Goatstigram
At best, parkour is weird. It always feels like it's one step away from actually making sense. Well, prepare for it to make sense. That missing piece wasn't a skateboard, pride or rollerblades. It was goats.
No, that is not a clever way of talking about LeBron James, Kanye West or Meryl Streep. Real goats, and not humans, should be the world's parkour stars. (With exceptions for parkour done in an ice city or dressed as Super Mario.) 
The above video was put together by UNILAD on Facebook using clips from the @Goatstigram account on Instagram, which has been sharing goat love since March of 2015. The video has captured the minds of millions, racking up more than 10 million views in under 24 hours.
The video is excellent, even verging on inspirational. However, the idea isn't entirely new.There's an entire Subreddit dedicated to brilliant, fleeting moments of goat parkour.
You might think, you've goat to be kidding me. There's an entire Instagram account dedicated to goat antics? It's really not that baaaad. You hoove to check it out.
Sign up here for our daily Thrillist email, and get your fix of the best in food/drink/fun.
Dustin Nelson is a News Writer with Thrillist. He holds a Guinness World Record but has never met the fingernail lady. Follow him @dlukenelson.