100 Hungry Goats Invade Quiet Neighborhood, Eat Everything in Sight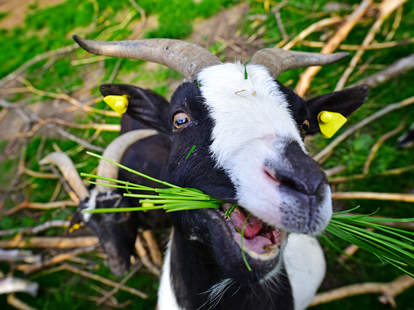 A seemingly quiet street in Boise, Idaho looked more like a haphazard petting zoo on Friday morning after a herd of nearly 100 hungry goats inexplicably descended on residents' lawns. Photos and videos from the scene show dozens of the loose barnyard animals roaming from yard to yard and eating everything -- flowers, bushes, leaves -- in sight, while neighbors watched the invasion in shock, confusion, and probably a bit of amusement. 
As a report by KTVB explains, residents of the city's Summerwind Drive woke up to find the herd grazing on their lawns around 7am... with no sign of anyone attempting to round them up. Officials from the local animal control eventually responded to the slow-moving feeding frenzy, but soon realized they'd need more than the single truck they were equipped with. It wasn't until 8:30am when a company called We Rent Goats sent a bigger truck so that officials could corral the goats and transport them back to where they were supposed to be grazing nearby. 
Local news reporters documented the bizarre scene as it unfolded on Twitter, much to the delight of the world. The story quickly emerged as a Twitter Moment, complete with plenty of "new kids on the block" jokes.
Thankfully, it looks like all of the loose goats were rounded up and transported away from the neighborhood before they could cause any further landscaping destruction. And while the KTVB report dubbed the goat invasion as "The Great Goat Escape," it remains unclear if the escaped goats will go down as the greatest of all time.
h/tJoe Parris
Sign up here for our daily Thrillist email and subscribe here for our YouTube channel to get your fix of the best in food/drink/fun.