'Godzilla' El Niño Update: Floods, Mudslides, and Mayhem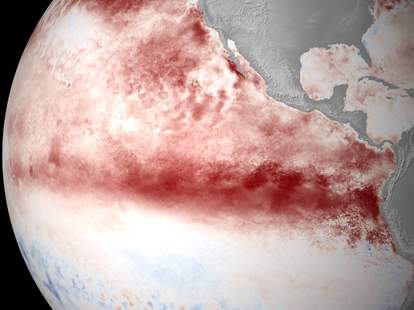 On Thursday, NOAA forecasters gave an update on the impending El Niño -- the climate phenomenon involving abnormally warm Pacific surface temperatures -- saying it could be the strongest on record. Also, a NASA climatologist said this: "This definitely has the potential of being the Godzilla El Niño."  
So, apparently El Niño will now be using its atomic breath to bring massive storms to the West Coast.
According to the NOAA, the Pacific continues to see warmer than average temperatures, and there is a 90% chance that El Niño will continue through the winter and into the spring. Images released by NASA's Jet Propulsion Laboratory show that this El Niño is stronger than the 1997 El Niño was at this time.
Bill Patzert, the NASA climatologist who thinks complex weather patterns are giant reptilian sea monsters, was no less spirited when speaking to the LA Times, saying: "Everything now is going to the right way for El Niño... If this lives up to its potential, this thing can bring a lot of floods, mudslides and mayhem." We'd expect nothing less than mayhem from something that has previously gone head-to-head with King Kong.
A blogger for the NOAA has also referred to El Niño as "Bruce Lee," which just seems like a missed opportunity to hop on how hot mixed martial arts are right now. Bruce Lee/Godzilla is expected bring about heavy winter rains in California and the southern US, but officials are warning Californians not to get too excited about all the water: "A single El Niño year is very unlikely to erase four years of drought," Kevin Werner, the NOAA's expert on climate in the western US told the Times.
So, a giant sea monster-like weather phenomenon is going to attack the West Coast with rain, but it's not going to bring enough rain to end the drought. This is the Donald Trump El Niño -- lots of hot air, but not a lot of solid carry-through.
Lucy Meilus is a staff writer for Thrillist and thinks no weather forecast is worth reading unless it involves fictional monsters. Follow her on Twitter at @Lucymeilus and send news tips to news@thrillist.com.