Bring Home These 'Golden Girls' Action Figures and Thank Them for Being a Friend
If you don't collect action figures, you're about to start. Funko, the makers of pop culture action figures, has a special edition set of Golden Girls figures that are just begging to be your friend. The set includes the whole crew, Dorothy, Rose, Blanche and a purse-wielding Sophia ready to smack you for being an uppity know-it-all youth.
Unfortunately, the set is a limited edition and can currently only be found at this year's New York Comic-Con. The Golden Girls ReAction Figures will only be available at Funko's Comic Con booth and to get access to that booth you have to enter a lottery. Anyone who gets in has a one-item-per-ticket limit on what they can pick up while they're at the booth. So these aren't going to be easy to come by.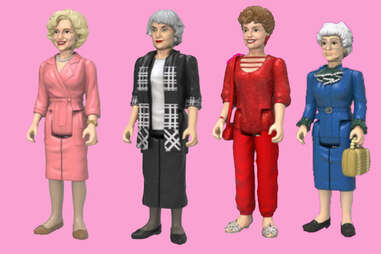 If you're dying to adorn your shelves with a crotchety quartet of these national treasures, there's always Funko's Pop! TV set of Golden Girls figures, which were released back in February and are still available.
"We almost weren't prepared for the excitement," said Director Marketing Mark Robben of the popularity of their Golden Girls figures to ABC News. "We created these as a passion project initially, and were blown away when it started trending on social media."
With how popular they are, maybe they'll have to do a wider release of the Comic-Con figures as well. The people have spoken. They want Golden Girls action figures that they can take to New York's Golden Girls cafe to discuss why Golden Girls was such an important show.
Sign up here for our daily Thrillist email, and get your fix of the best in food/drink/fun.
Dustin Nelson is a News Writer with Thrillist. He holds a Guinness World Record, but has never met the fingernail lady. He's written for Sports Illustrated, Men's Journal, The Rumpus, and other digital wonderlands. Follow him @dlukenelson.