Holy Sophia, 'Golden Girls' Clue Is a Real Thing
For its surprisingly large legion of superfans, The Golden Girls is perfect. But even a superfan has to admit that a crossover episode with Murder She Wrote would have been amazing. Imagine the quartet of sassy retirees spending a weekend in Cabot Cover, murder capital of television America.
While it's not possible to Emmett Brown into history and make that happen, you can get pretty close with this soon-to-be-released Golden Girls edition of the board game Clue. Only, to make the game as Golden Girls-y as possible, the octogenarians aren't trying to solve a murder mystery. They're trying to figure out who ate the last piece of cheesecake.
USAopoly
Was it Blanche in Dorothy's bedroom wearing a bathrobe? Was it Rose in the lanai in her feathered slippers?
The board is a map of Blanche's house with six possible suspects -- the four stars plus Stan and Miles -- and the "weapons" used to eat the cheesecake include a feathered slipper, a Rattan chair, a bathrobe, lipstick, whipped cream, and Sophia's purse. It's serious stuff.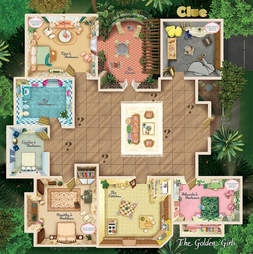 USAopoloy
Dustin Nelson is a News Writer with Thrillist. He holds a Guinness World Record but has never met the fingernail lady. Follow him @dlukenelson.