These All-New Veggie Goldfish Flavors Come With a Third of a Serving of Vegetables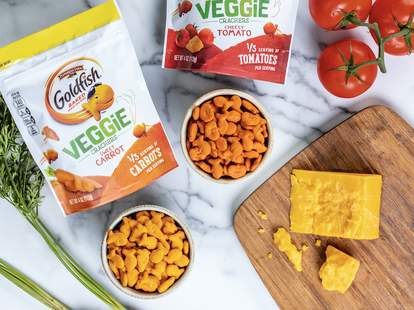 Kids, if you're reading this, run and tell your caregivers that they no longer have to toil over a tray of yucky Brussels sprouts, because the days of eating vegetables are over -- Goldfish just released compensatory Veggie Crackers. 
The crackers come in two flavors: Cheesy Tomato and Sweet Carrot. And this ain't no potato chip "veggie straw," type of artificial scheme. They're made with 1/3 servings of veggies. That means if you munch on cold pizza for breakfast, cake for lunch, and veggie crackers for dinner, you'll still be nourishing yourself more than the majority of America. 
The cheesy tomato crackers are colored by tomato, beet juice concentrate and annatto, and their carrot counterpart is colored by carrot and paprika extract. While the crackers stay loyal to the traditional flavor, the carrot and tomato flavors easily share space with the cheddar, so that a fresh veggie taste complements the zing of sharp cheese.
The infant who visibly expressed the horrors of broccoli in 2016 will be happy to know that there's another way for the babies of younger generations. His parents only need to go to select grocers including, Kroger, Walmart and Publix starting January 2020. 
The company is planning a nationwide rollout for March 2020. Until then we will have to survive off of cheese-doused vegetables and the pickles on our fried chicken sandwiches.
Remember kids, eating vegetables will probably be very retro in the '20s, so you should still consider learning to saute.
Sign up here for our daily Thrillist email and subscribe here for our YouTube channel to get your fix of the best in food/drink/fun.