A 'Good Burger' Restaurant Just Opened and It's Now Taking Reservations
For plenty of kids who grew up in the '90s, watching Nickelodeon's All That was the go-to Saturday night routine...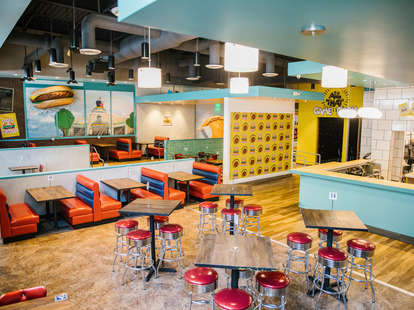 Nathaniel Wood
Nathaniel Wood
For plenty of kids who grew up in the '90s, watching Nickelodeon's All That was the go-to Saturday night routine. The spectacularly silly sketch show helped launch a few comedy careers and seared plenty of ridiculous characters into the minds of an entire generation. Now, one of the most memorable backdrops from the storied series is coming to life, because a fully functioning Good Burger pop-up restaurant just opened in Los Angeles and it's the spitting image of the set featured in the iconic Keenan and Kel sketch.
Inspired by the fast food joint from the fan-favorite sketch that was later turned into a feature film, the Good Burger pop-up is a nostalgic trip back into TV history, complete with a full menu and a whole bunch of Instagram-worthy details. The spot, which opened July 10 on Santa Monica Boulevard, comes from the same team behind the wildly popular Saved by the Max Saved By The Bell-inspired diner pop-up that toured the country last year.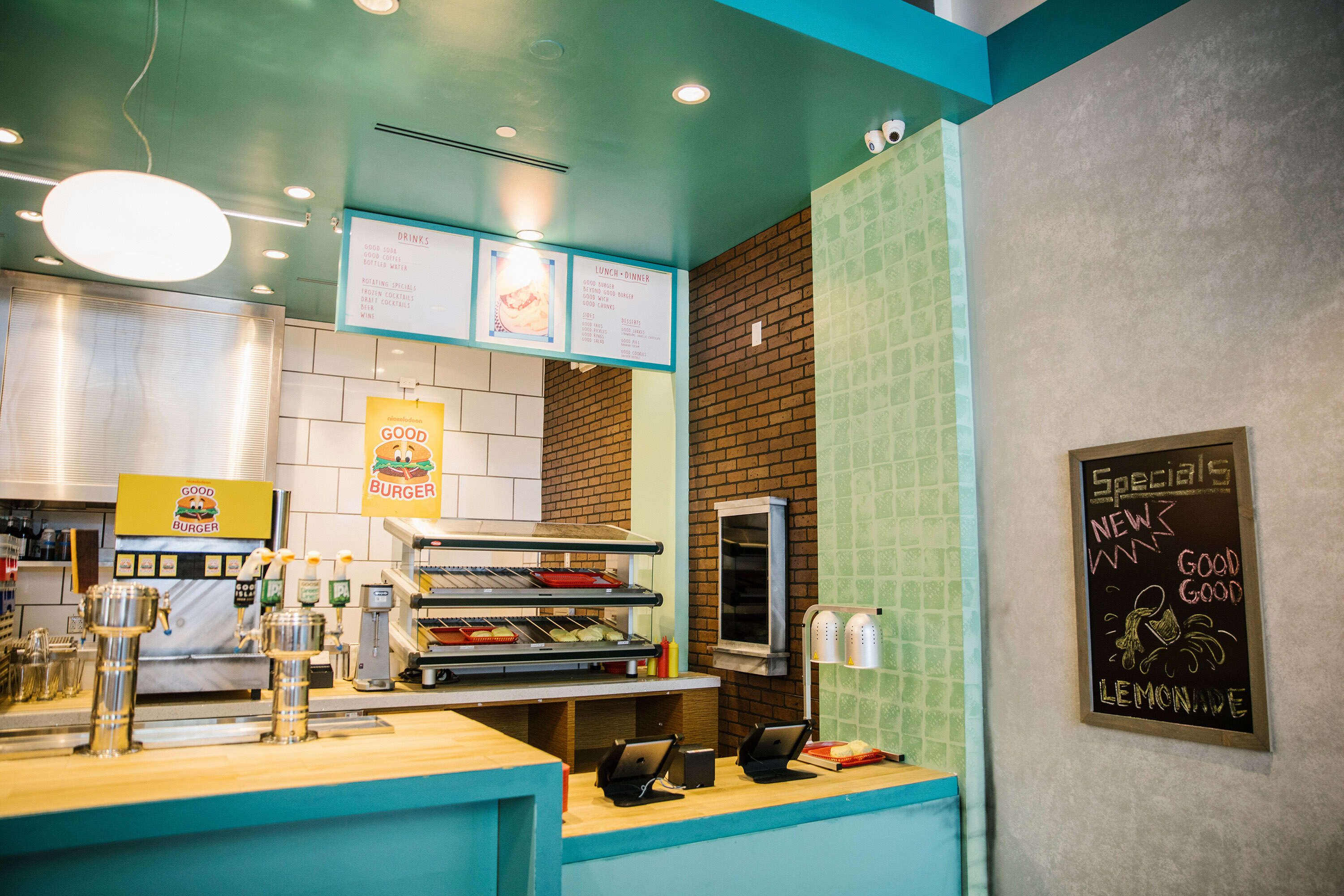 "The opportunity to turn this cult Nick favorite into our next themed pop up is such a dream come true," Derek Berry, one half of the pop-up's team, said in a press release. "Immersive nostalgic experiences continue to be something fans really clamor for; and we know our execution with The Max spoke for itself. When the timing aligned to bring Good Burger to life, it was something we just couldn't pass up." The pop-up launch, which has the blessing from Nickelodeon, coincides with an All That reboot that premiered on the network in mid-June.
Thrillist got a peek at the interior and the space is decked out in a sea foam and yellow color scheme, much like it was in the sketch. The counter, booths, and soda fountain are begging to be photographed, and there's even an All That-themed step and repeat where you can capture some solid social #content.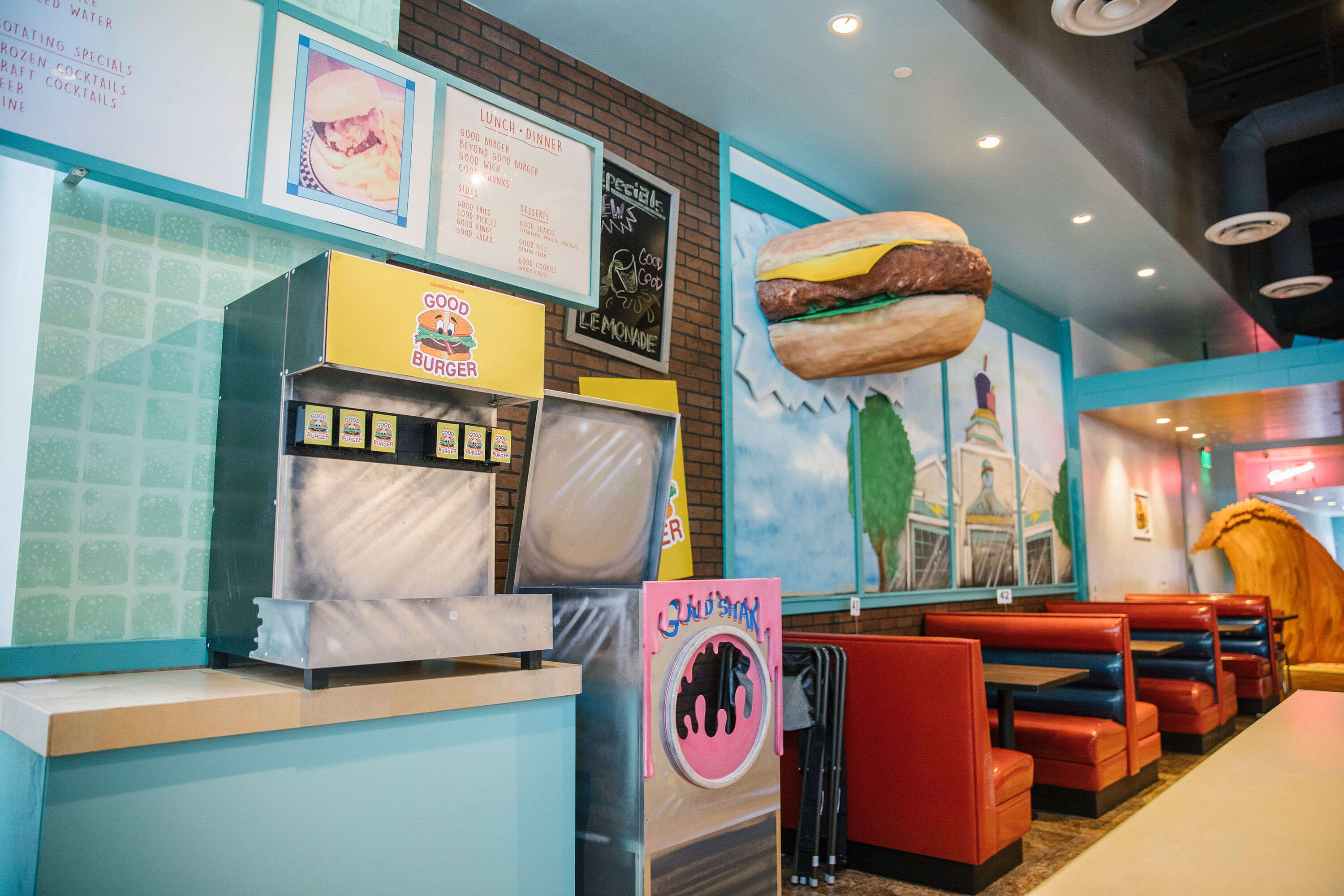 As for the menu, it's stocked with plenty of "Good" eats. There are Good Burgers, Good Chunks, a Good Wich, Good Fries, Good Rings, Good Pickles, Good Salads, Good Shakes, Good Pies, and Good Cookies -- plus several boozy riffs on Keenan and Kel's beloved beverage: orange soda. It's not some ho-hum selection either, since the food program was overseen by the chef behind Eggslut.
If Good Burger is even remotely as popular as Saved by the Max was, you can expect it to be jammed with fans and burger fiends alike, especially in its first few months (it's scheduled to remain open until the end of 2019). Fortunately, you can easily secure tickets online, which entitle you to a 90-minute "experience" in the space (plus an entree, a side, and a commemorative item).
It's unclear exactly what the "experience" entails, but if they're going for authenticity, expect your order to be royally messed up.
Sign up here for our daily Thrillist email and subscribe here for our YouTube channel to get your fix of the best in food/drink/fun.