Good News: You Can Fly with Just Your Driver's License Until 2018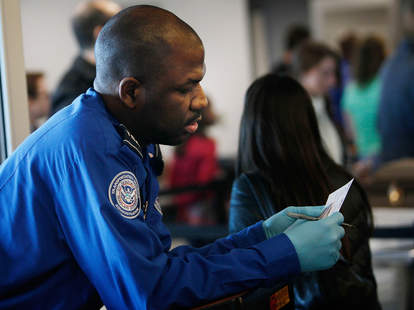 Getty Images/Chris Hondros
Don't worry, everyone -- your state-issued ID will be accepted at airport security checkpoints for domestic flights this year, after all. The Department of Homeland Security (DHS) announced that it has extended the deadline for when state IDs and driver's licenses must meet the higher security standards required by the federal REAL ID Act, instead of potentially enforcing the requirements sometime this year.
This means if your ID was issued by a state not yet compliant under the measure (listed here), airport security officials will continue to accept your state-issued ID until at least January 22, 2018. In other words, you won't have to run out and get an updated driver's license or a passport before your next trip, which would have been a huge pain in the ass for many flyers. Phew. 
"Effective January 22, 2018, air travelers with a driver's license or identification card issued by a state that does not meet the requirements of the REAL ID Act (unless that state has been granted an extension to comply with the Act) must present an alternative form of identification acceptable to the Transportation Security Administration (TSA) in order to board a commercial domestic flight," said DHS Secretary Jeh C. Johnson in a statement. "Over the next two years, those states that are not REAL ID compliant are strongly encouraged to meet the requirements of the law for the benefit of their residents."
Under the federal law enacted by Congress in 2005, states must issue IDs with anti-counterfeit technology built into the card, verify the ID applicant's identity, and perform background checks on employees who are tasted with issuing driver's licenses, among other requirements. So far, only 23 states are fully compliant, 27 states and territories have received extensions to become compliant, and six states and territories – Illinois, Minnesota, Missouri, New Mexico, Washington, and American Samoa – are not compliant, according to DHS.
After extending the deadline to 2018, the agency released updated timeline for enforcing the READ ID act, per the press release:
Effective immediately, the Department of Homeland Security will conduct outreach to educate the traveling public about the timeline below, and continue engagements with states to encourage compliance with REAL ID standards.
Starting July 15, 2016, TSA, in coordination with airlines and airport stakeholders, will begin to issue web-based advisories and notifications to the traveling public. 
Starting December 15, 2016, TSA will expand outreach at its airport checkpoints through signage, handouts, and other methods.
Starting January 22, 2018, passengers with a driver's license issued by a state that is still not compliant with the REAL ID Act (and has not been granted an extension) will need to show an alternative form of acceptable identification for domestic air travel to board their flight. To check whether your state is compliant or has an extension, click here. Passengers with driver's licenses issued by a state that is compliant with REAL ID (or a state that has been issued an extension) will still be able to use their driver's licenses or identification cards.
Starting October 1, 2020, every air traveler will need a REAL ID-compliant license, or another acceptable form of identification, for domestic air travel.
But if you're smart and want to avoid this headache entirely, your best bet is getting a passport -- that is, if you don't have one already. Oh, and you might as well expand your horizons while you're at it.
Sign up here for our daily Thrillist email, and get your fix of the best in food/drink/fun.
Tony Merevick is Cities News Editor at Thrillist and can breathe a sigh of relief, for now. Send news tips to news@thrillist.com and follow him on Twitter @tonymerevick.