Google Docs Went Down and People Lost Their Damn Minds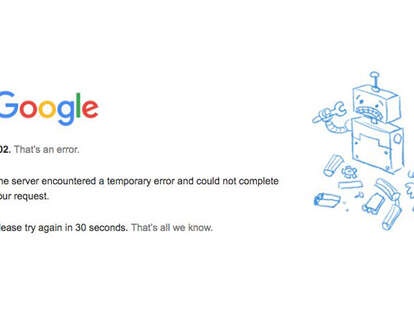 That massive gasp heard across the world Wednesday afternoon? It wasn't the sound of the Earth starting to deflate. It was the collective "pfft" of a nation losing access to Google Docs.
Many, many people rely on Google Docs for work and school. If you doubt it, just look at how many people start losing their mind when Google Docs goes down for even a short amount of time. It went down Wednesday and people all over the place lost access to their files and wits.
Down Detector cites thousands of outage reports in the early afternoon. At 2:48pm ET, Google released a statement. "We're aware of a problem with Google Docs affecting a significant subset of users," it read. "The affected users are unable to access Google Docs. We will provide an update by 11/15/17, 4:30 PM detailing when we expect to resolve the problem."
At 4:10pm, the issue was "resolved," but there's no taking back all the howling on social media that preceded the resolution.
There's probably a lesson to be learned here. But who has time for lessons? It's definitely not a sign people are too reliant on Google. Definitely not.
h/t Mashable
Sign up here for our daily Thrillist email, and get your fix of the best in food/drink/fun.
Dustin Nelson is a News Writer with Thrillist. He holds a Guinness World Record but has never met the fingernail lady. Follow him @dlukenelson.