Google Earth as we know it was first released to the public back in 2005 and has been entertaining wanderlusters and saving geography students' asses ever since, allowing users to virtually explore the globe via sophisticated satellite imagery. Now, it's offering even more immersive tours of faraway places thanks to a massive update unveiled today, which adds features like 3D maps and expert-guided tours, all of which you can now enjoy without downloading a special desktop app.
Recommended Video
Art of the Meal: Chloe Rose Makes Super Mario Bros Art With Hot Sauces
This major overhaul, which reportedly took two years to build, makes playing around with Google Earth a whole lot more interesting, thanks to the introduction of compelling 3D map views for a bunch of locations -- from the Grand Canyon, to Prague, to the Palace of Versailles -- which allows you to zig, zag, and zoom around, exploring all manner of world cities and natural wonders in greater detail than ever before. And even better, you can take advantage of all the slick new features from right inside your Chrome browser.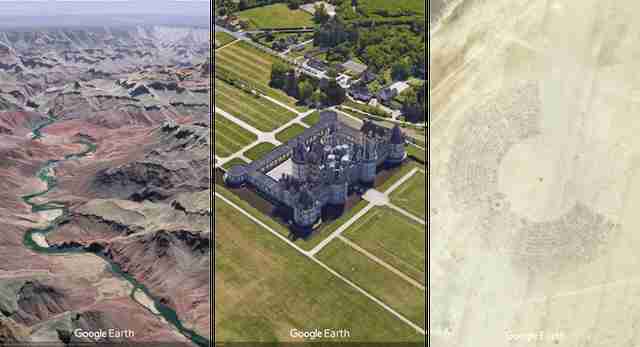 Another standout new feature is something called "Voyager," a showcase of highly interactive expert-guided tours packed with videos and slideshows. There are already more than 50 Voyager tours to pick from, with themes ranging from Remote Islands to Renowned Bridges, and explorations of hugely popular tourist destinations like Machu Pichu. There are also a handful of "Natural Treasure" tours led by the team at BBC Earth, and even a look at the chimps at Tanzanian Gombe National Park from Jane Goodall.
Google's also added an "I'm Feeling Lucky" button much like the one built into its search engine, which will zip you to one of 20,000 random locations, plying you with "Knowledge Cards" about the place, and suggesting other similar spots worth checking out.
Besides via the Chrome desktop browser, this latest revamped Google Earth can be accessed on-the-go on Android, and will soon be available on iOS.
Sign up here for our daily Thrillist email, and get your fix of the best in food/drink/fun.